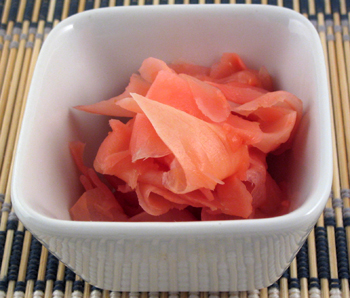 Pickled Ginger
© Denzil Green
Pickled Ginger is thin slices of ginger that are pickled in a vinegar or a brine.
It is a common Japanese condiment.
There are three types of Japanese Pickled Ginger: Gari, Amazu-Shouga, and Beni-Shouga.
Cooking Tips
Pickled Ginger is used with savoury dishes. It is often served with sushi in Japan, meant to be used as a palate cleanser between different types of fish.
It is also actually nice with lamb.
Storage Hints
Store covered in the vinegar in refrigerator for up to 6 months.