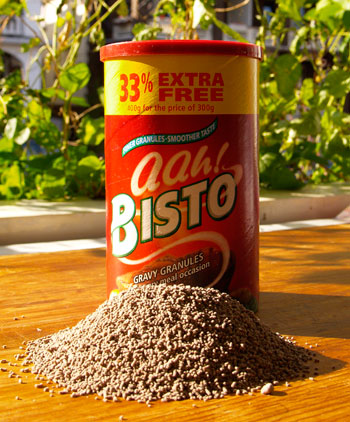 Bisto Granules
© Denzil Green

Bisto Instant Gravy Granules are a granulated powder for making gravy from. You just add boiling water to them to make the gravy; the granules add both the flavouring and the thickening.

The granules come in different flavours such as "favourite" (regular, sort of beef flavoured), chicken, turkey, curry sauce, cheese, etc.

They take about 30 seconds to thicken; you can thicken the gravy a bit further without adding more granules by zapping it in the microwave for a minute or two.

It can be added into casseroles, stews and soups to thicken and add flavour.

It is sold in packages or cardboard tube canisters.

In general, it is made from potato starch, salt, wheat starch, colour, dried yeast, and onion powder.
Cooking Tips
Stir in a teaspoon or so of horseradish or mustard to the prepared gravy for a completely different flavour with a tang.
Nutrition
100 g dry powder, unmixed, containers 10 tablespoons and has 11 PointsPlus™ in it. Generally, allow 1 ww point a tablespoon when you are adding to stews, etc. Adding pickled horseradish or some mustard to it shouldn't affect the points.
Amount

Calories

16

Fat

.6 g

Saturated

.4 g

Trans

0 g

Cholesterol

0 mg

Carbohydrate

2.4 g

Fibre

.1 g

Sugars

.5 g

Protein

.1 g
Equivalents
1 tablespoon bisto instant gravy granules, dry, unmixed = 10g
History Notes
Bisto gravy powder was invented by two men named Roberts and Patterson in 1908. They were coworkers at the Cerebos salt plant in England. The instant granule form was introduced in 1979.