CooksInfo was founded in 1999. It is an online encyclopaedia about food.
Food nourishes us, cheers us, bonds us, divides us, inspires us artistically and has driven us throughout the millennia to achieve more economically and scientifically. It has brought nations together and torn them apart.
Thinking and writing about food necessarily draws on a multidisciplinary range of diverse fields from food safety to literature to agriculture to ancient history. Our understanding of the science behind food production, chemistry, safety and nutrition is in constant evolution, and issues in growing and making food transverse geographic boundaries to involve trade, politics and cultural cross-pollination.
CooksInfo aims to bring insights from many different fields of human thought and endeavour to bear upon all aspects of food, and to keep up with the latest, best research consensus available, because what we know about what we know is always changing. There are no simple answers. What today seems black and white may be grey tomorrow, or, may be the opposite to another food culture somewhere else in the world. Critical thinking is vital in order to examine evidence, and place it in historical and cultural context.
Randal Oulton is the driving force behind CooksInfo. He has been writing and researching about food since his university days.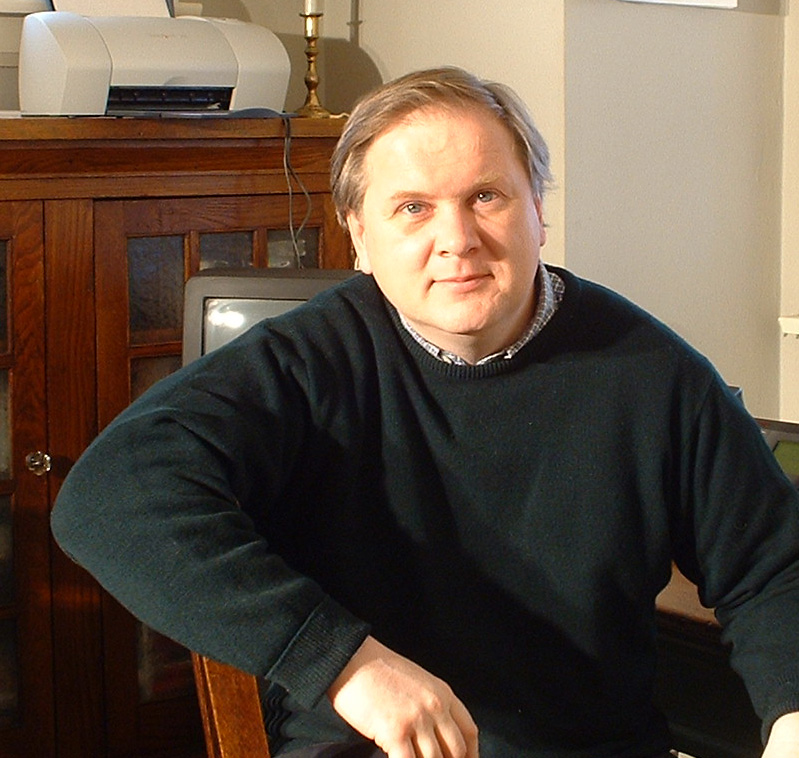 He studied at Trinity College in Toronto, hosting still-talked about dinner parties bringing students and professors together around the table until the wee hours of the morning, debating International Relations, French and Russian literature, philosophy, the classics, and of course food topics such as sustainability, vegetarianism, French haute cuisine, and gastronomy as an art and science as expounded by Brillat Savarin.
Food as an academic pursuit in the humanities was not offered at that time by universities, so as further education he studied Food & Cuisine at George Brown College, Toronto, before heading off to the University of Florence in Italy to study renaissance art as a subterfuge for a deep dive into the cuisine of Tuscany.
Randal has an insatiable, wide-ranging appetite for continuing education. Almost any subject seems to end up being fodder for information about food — which traditional versions of the Red Riding Hood fable included wine and why the others didn't, did Hippocrates really write about apple cider vinegar, what farming and agricultural techniques did Australia's indigenous peoples use, what impacts could robotics have on the use of pesticides in food production, and, when better-off Romans had toilets in the house, why were they often in the kitchen?
Besides English, Randal is proficient in eight additional languages, including Latin and Classical Greek, which give him wide access to research material contemporary and ancient.
In addition to CooksInfo, Randal is also the author of the Healthy Canning, Hot Air Frying, and Practically Edible web sites. He has also written for many professional publications. Over the years, he has done charitable work for breast cancer, AIDS, early childhood education, and for the intellectually disabled.
Recent continuing education
Food
Antimicrobial Resistance in the Food Chain (University of Nottingham / October 2020 — November 2020)
British Food (The British Council / July 2021)
Circular Business Models for Sustainable Urban Food Systems (University of Turin / January 2022 — February 2022)
Climate Change and Resilience in Food Systems (University of Leeds / September 2021 — October 2021)
Consumer and Environmental Safety: Food Packaging and Kitchenware (University of Turin / October 2020 — December 2020)
Eating for the Environment (Open University / April 2021)
Engaging with Controversies in the Food System (University of Reading / July 2020 — August 2020)
Food Supply Chains in a Time of Crisis (Queen's University Belfast / June 2020 — July 2020)
From Waste to Value: How to Tackle Food Waste (University of Reading / November 2020 — December 2020)
Grand Challenges: Food for Thought (University of Exeter / December 2020 — January 2021)
Healthy Cooking Made Easy with BBC Good Food (BBC / August 2021 September 2021)
How Farmers Produce Food Sustainably (University of Reading / December 2020 — January 2021)
Innovation in Arable Farming: Technologies for Sustainable Farming Systems (University of Reading / October 2020 — November 2020)
Identifying Food Fraud (University of East Anglia / September 2020 — November 2020)
Improving Food Production with Agricultural Technology and Plant Biotechnology (University of Cambridge / July 2020 — September 2020)
Introduction to Food Science (Queen's University Belfast / September 2020 — October 2020)
Introduction to Food Science (Queen's University Belfast / September 2020 — October 2020)
Ocean Science in Action: Addressing Marine Ecosystems and Food Security (National Oceanography Centre / May 2021 — June 2021)
Nutritional Approach to Agriculture and Food Security (University of Leeds / September 2021 — October 2021)
Organising for the Sustainable Development Goals (SDGs) (Hanken School of Economics / September 2021 — October 2021)
Prosecco Wine (University of Padua / May 2021)
Revolutionising the Food Chain with Technology (Queen's University Belfast / October 2020 — November 2020)
Superfoods: Myths and Truths (University of Turin / July 2020 — September 2020)
The Science of Cooking (Harvard University / January 2022 — )
The value of coffee (Open University / March 2021 — April 2021)
Understanding Food Labels (University of Reading / September 2020 — October 2020)
Understanding Food Supply Systems (Queen's University Belfast / December 2020 — January 2021)
Understanding Mediterranean and Okinawa Diets (University of Turin / (January 2022 — February 2022)
Nutrition
Food and Mood: Improving Mental Health Through Diet and Nutrition (Deakin University / June 2021)
Food and Nutrition: The Truth Behind Food Headlines (University of Reading / August 2020 — October 2020)
Food as Medicine (Monash University / February 2021 — March 2021)
Food Safety and Nutrition: A Global Approach to Public Health (University of Leeds / July 2021 — August 2021)
Food Science and Nutrition: From the Farm to You (University of Leeds / November 2020 — December 2020)
Nutrition for Health and Sustainability (EIT Food / July 2021 — August 2021)
Nutrition and Wellbeing (University of Aberdeen / March 2021 — April 2021)
The Relationship Between Food, Gut and Brain (University of Turin / August 2020 — October 2020)
Other
Full eclectic list available on Class Central