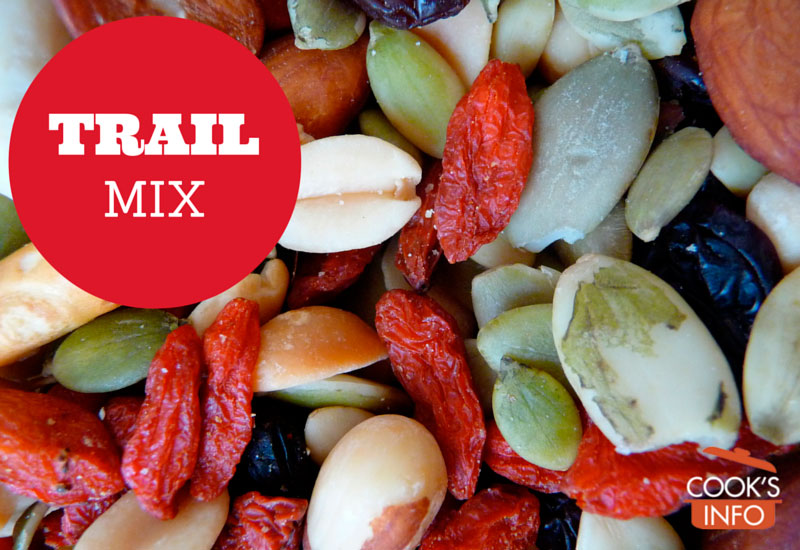 Trail Mix
© Denzil Green

Trail Mix is a generic name for a dried snack mix, meant to be eaten out of hand.

There is no one version of Trail Mix; no one single recipe.

The idea behind it is that it is a healthy, high energy snack to have while hiking. Most Trail Mix these days, the only trail it sees is from kitchen to couch, and how healthy it is depends on the ingredients.

Ingredients usually include dried fruit, grains, nuts, and occasionally chocolate.

If it's actually being used for a snack while hiking, chocolate is not always practical as it can melt in heat. Thus, the chocolate used is often a coated chocolate candy such as M&M's.
Trail mix with candy
© Cianna Woods / pixabay.com / 2013 / CC0 1.0
You can get expensive gourmet Trail Mixes.
Trail Mix is also called "gorp", which some thinks stands for "good old raisins and peanuts", or "Granola Oats Raisins and Peanuts."
It is called "scroggin" in Australia and New Zealand. Some think scroggin is an acronym having the first letter from each of the following ingredients: sultanas, chocolate, raisins, orange peel, ginger, glucose (sugar), imagination (imagination being a stand-in wild card for whatever other ingredient the cook wants to add), and nuts.
Explanations for both terms, "gorp" and "scroggin", are usually classed by most food historians as "backronyms": explanation of an word or acronym, invented by someone long after the fact.
Trail Mix is not a trademarked name, but "Original Trail Mix" is; the phrase "Original Trail Mix" was registered in 1968 by Hadley Date Gardens. The description of "Original Trail Mix" in the registration is: "raisins, processed sunflower seeds, processed pumpkin seeds, processed peanuts, processed cashews, processed almonds, soybean oil and/or cottonseed oil and/or canola oil and/or almond oil and salt." (US Trademark Registration No. 2662697.) Note, however, that the registration says that Hadley did not actually use the term commercially until 1977.
Cooking Tips
Trail Mix can be used as a topping for desserts such as bowls of fruit or ice cream, or as an ingredient in some dessert recipes.
Trail mix assembly at home
© regan76 / flickr.com / 2012 / CC BY 2.0
History Notes
Trail mix with chocolate
© Sara Milne / flickr.com / 2010 / CC BY-ND 2.0
Trail Mix in one form or another has really probably been around for ever: mixtures of berries and nuts were carried by travellers since time immemorial.
At the time of its formal appearance as a defined food item in the late 1960s, home-made party snack mixes were still popular.
Before the 1970s, the term was for Trail Mix was "Gorp."
" 'Gorp' is taken by all campers and canoers. (Named for the flavors grape, orange, raspberry and pineapple, 'gorp' becomes a tasty thirst-quencher when mixed with cool water.)" [1]Otto, Jean. "Chalk Hills Camp is North Woods Setting For Fox Cities Area Girl Scout Adventures." Appleton, Wisconsin. Appleton-Post Crescent. 24 July 1962. Page 22.

"They are carrying four duffle bags and four packs, including 150 pounds of water. Their food is salami, cheese, bread, cookies, and GORP, a combination of chocolate drops, peanuts, raisins, and gum drops." [2]Associated Press. "4 in 7th Day of Yosemite Peak Climb." Long Beach, California: Press-Telegram. 27 October 1964. Page 16.

"Sunday morning the Huff and Puffers, as they call themselves, will see Chicago's front yard, cycling along Lake Michigan by way of the lake-front park system bike paths. Sunday afternoon to avoid cycling in heavy traffic, a bus will take the group to Rockton, Ill., 90 miles from Chicago. The trip begins there and soars northwest to La Crescent, Minn., then south along the Mississippi and east to the shores of Lake Michigan at Kenosa, Wis., 45 miles north of Chicago. The enthusiasm of Dave and Kathy is contagious. One is caught in a whirl of gear ratio, mileage, suitable clothing and "gorp". Gorp is a delicious mixture of salted peanuts, raisins, chocolate drops, marshmallows and candies which experienced riders carry. They munch on it to keep up strength and the spillage provides a ribbon of friendly garbage marking the trail. The slogan is "Go gorp and you'll always get there". [3]Frederick, Virginia. Salina Couple to Pedal Through 2-Week Vacation. Salina, Kansas: Salina Journal. 1 October 1965. Page 10.
By the 1970s, Gorp is being referred to as Trail Mix:
"Margie Mahoney, 23, of Anchorage, Alaska is a member of the Ladies' Crosscountry Team and makes her own snack food. When in competition she prefers large breakfasts and after a race she drinks hot liquids, eats raisins and oranges. At home she makes granola for breakfast. Her Skiers' Trail Mix for hiking or ski touring is made from equal amounts of raisins, dry roasted peanuts, chocolate chips or M&M's. "I mix these in a plastic bag and throw it in my back pack. It's a great energy snack." [4]Claire, Aileen. Indiana, Pennsylvania: Indiana Evening Gazette. 12 February 1976. Page 15.
Trail mix at work
© Thomas Breher / pixabay.com / 2015 / CC0 1.0
| | | |
| --- | --- | --- |
| 1. | ↑ | Otto, Jean. "Chalk Hills Camp is North Woods Setting For Fox Cities Area Girl Scout Adventures." Appleton, Wisconsin. Appleton-Post Crescent. 24 July 1962. Page 22. |
| 2. | ↑ | Associated Press. "4 in 7th Day of Yosemite Peak Climb." Long Beach, California: Press-Telegram. 27 October 1964. Page 16. |
| 3. | ↑ | Frederick, Virginia. Salina Couple to Pedal Through 2-Week Vacation. Salina, Kansas: Salina Journal. 1 October 1965. Page 10. |
| 4. | ↑ | Claire, Aileen. Indiana, Pennsylvania: Indiana Evening Gazette. 12 February 1976. Page 15. |