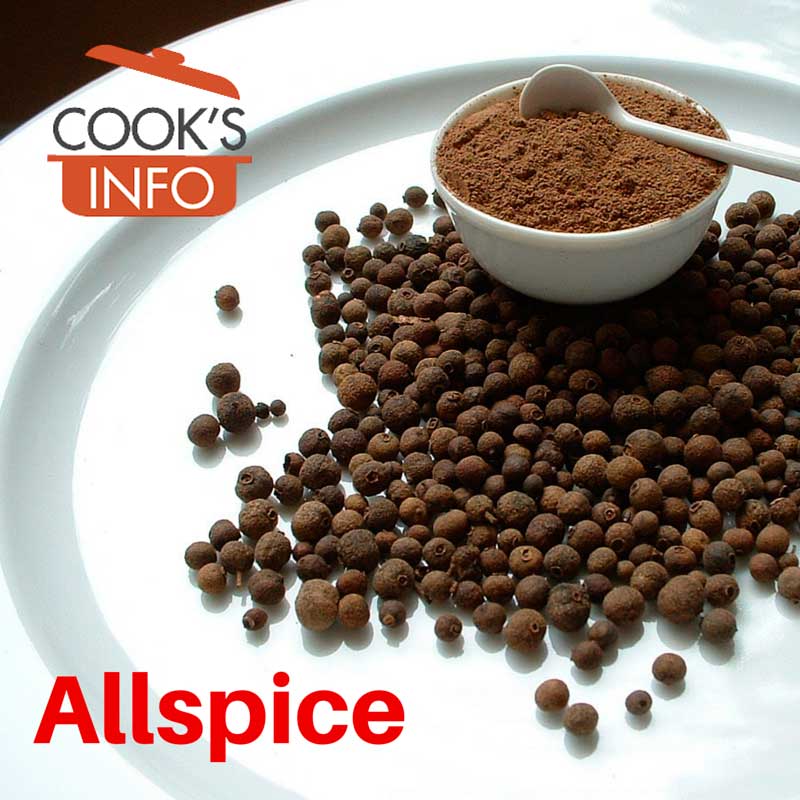 AllSpice
© Denzil Green
Allspice tastes like a mixture of cloves, juniper berries, cinnamon and pepper — thus its English name of "Allspice." But to be absolutely clear, it is a single spice, not a blended one.
The Allspice tree is an evergreen that grows about 10 metres (30 feet) high. In Jamaica, there are whole forests of this tree, letting Jamaica provide more than half of the world's supply. The berries are harvested while they are still unripe and green.
During drying, the colour changes to a reddish-brown. They look like small peppercorns (pimiento meaning pepper), thus some of its other names: Jamaica pepper, myrtle pepper, pimiento, pimento and clove pepper (adding to the confusion of other things already called pepper or pimento.)
You normally buy allspice already ground, but you can buy it whole: most of the demand for it in its whole form is in for use in pickling and preserving.
Allspice is used a good deal in English speaking countries and in Scandinavia; it is less well-known and used in Europe, except for use by sausage makers there.
Substitutes
½ ground cinnamon; ½ ground cloves
Equivalents
1 oz ground Allspice = 4 ½ tbsp
1 teaspoon = 2 g
¼ pound ground allspice = 115 g = 1 cup plus 2 tablespoons
5 berries = 1 teaspoon of ground
History Notes
Allspice was being used in London by 1601, and it was so popular in the American colonies before Independence that during the American Revolution, the Americans even had to seek out a substitute: the powered berries from a plant called "American Spice Bush" or "Benzoin".