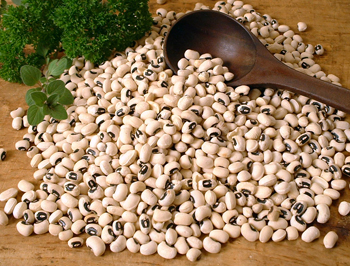 Black-Eyed Peas
© Denzil Green
Black-Eyed Peas are medium-sized, white beans with a black spot on the side. The skins are very thin.
They cook up very quickly and very soft, and absorb well the flavour of any sauce they are cooked in.
In the American South, they are often eaten fresh.
Black-Eyed Peas are very closely related to Chinese Long Beans, and more distantly related to Mung Beans.
Cooking Tips
Black-Eyed Peas don't really need presoaking (even if you are into presoaking beans) and cook fairly quickly — quickly enough that it's easy to overcook them and make them mushy (so never cook them in the same pot as other beans that take longer.)
If cooking in a regular pot, 1 hour (without presoaking) should do it. If pressure cooking, pre-soak for 4 hours and cook for 10 minutes.
Substitutes
Other white beans, but cook longer.
Amount

Calories

160

Fat

.65 g

Carbohydrate

34 g

Protein

5.25 g

Calcium

210 mg
Equivalents
1 cup (7 oz / 200g) dried = 2 ½ cups (14 oz /400g) boiled and drained
1 pound dried = 450g = 2 ½ cups dried = 5 – 6 cups cooked
1 cup (6 oz / 160g) EITHER boiled and drained OR canned and drained = ½ cup (3 oz / 80g) dried, uncooked
Storage Hints
Freezing: Pod the peas. Wash. Blanch for 2 minutes. Plunge in cold water, drain, package, and freeze. You can freeze fresh Black-Eyed Peas for up to 8 months.
History Notes
Black-Eyed Peas are originally from China, but became very popular in Africa, and through the slave trade were brought to the American deep-south, where they are now synonymous with the regional cooking.
Literature & Lore
An American deep-south dish made from Black-Eyed Peas, Hoppin' John, is thought to bring good luck if eaten at New Year. American southerners also just call the beans "black eyes".
"PURPLE HULLS, SALT PORK — … let's not forget… the virtues of blackeyed or purple hull peas cooked with salt pork. The little white cream peas are good, too, but they don't have quite the full country flavor of blackeyed or purple hulls….

When the peas are shelled you get a big saucepan and put in a piece of salt pork about the size of a package of cigarettes. But first take a knife and slice the pork down to the rind about every half inch so it will cook all the way through. Three or four slices of smoked or sugar cured bacon will do, but you won't get the flavor you get with a chunk of white salt meat. Put water in the pan, put it on the stove and start it cooking.

Wash your peas in the dishpan. It will take you maybe 10 minutes to get them good and clean. Three or four rinsings are a good idea. Then dump them in the water and let everything cook 45 minutes to an hour. Forty-five minutes you usually get bright, lively peas. An hour you get them good and done. There are flavor advantages to both ways. Just be sure they are done, with none of the rank rawness left.

Salt to taste and eat.

There are all kinds of things that go good with blackeyed or purple hull peas.

Sliced tomatoes, cucumbers, chow-chow made with green tomatoes or chili sauce made with red, cornbread, buttermilk, iced tea, hot peppers, potato salad, Louisiana hot sauce — all of these are very good.

But the one perfect thing to go with a mess of peas is raw onion sliced in quarter-inch slices.

Any temperature, any season, any place in the world there are few tastier dishes."

— Attributed to: W.D. Bedell, The Houston Post, 1961. In: Town Talk column, by Howard W. Rosser. Winnsboro, Texas, USA. 17 August 1961. Page 1.
Language Notes
Black-Eyed Peas are sometimes called "Cowpeas", but more often "Cowpeas" is reserved for a larger grouping of beans.