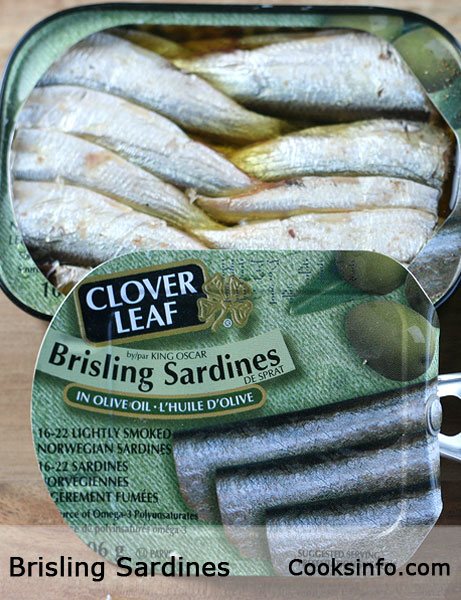 Brisling Sardines
© Randal Oulton

A Brisling Sardine (aka Bristling Sardine, with a "t"; aka Norwegian Sardine) is the smallest of the fish sold in cans as sardines. **

They are smaller and more delicate in taste and texture than other sardines.

They are caught when fully mature, about two years old, to ensure more body fat on them.

They have been sold tinned from Norway as Brisling Sardines since 1902. The original Norwegian company is called "King Oscar"; they are now also sold under other brand names, and come packed in a variety of sauces.

In other languages, such as French and Latin, the type of fish is actually referred to as a "sprat."

_____________________________________

** Sardine is a word that can mean different fish. It's best to think of it as a "category" word, rather than one actual fish.
Cooking Tips
See sardines. This type of canned sardine is popular in sandwiches, particularly mashed with a bit of mayonnaise and chopped pickle.
Substitutes
Another type of sardine.
Amount

Calories

150

Fat

10 g

Saturated

2.5 g

Trans

0 g

Cholesterol

110 mg

Carbohydrate

0 g

Fibre

0 g

Sugars

0 g

Protein

14 g
Equivalents
A 186 ml tin (6 oz) yields 80g (2.8 oz) of sardine after being drained.