Could I have another glass of that Hires' Rootbeer?
© The Charles E. Hires Co. [Public domain], via Wikimedia Commons / Boston Public Library. 1894.
Life and Times
Charles E. Hires was the first person to brew root beer commercially, though he didn't invent root beer — everyone had a home recipe for it.
Chronology of his life
1851 — Charles Elmer Hires was born 19 August 1851 into a Quaker family in Roadstown, outside Bridgeton in Stow Creek Township in southern New Jersey, according to his obituary, but other records show Elsinboro. The family name was originally Hoyer, of German descent.
1863 — At the age of 12, he apprenticed for four years in a small country town drug store in Roadstown.
1867 — At the age of sixteen, he moved to Philadelphia and became a drug store clerk. At nights, to better himself, he went to lectures at the College of Pharmacy
1872 — His extra studies enabled him to pass an exam to become registered as a pharmacist when a state law was passed requiring the exam.
Charles had saved up $400 along the way, which enabled him to set up his own drug store at Sixth and Spruce streets in Philadelphia. He slept over the store, and ate his meals at a boarding house next door. One day, he was watching basements being excavated for new houses, and noticed clay being dug up which he realized was potters clay (aka "Fuller's Earth" as it was called at the time. Much of Philadelphia still has a underlying layer of potter's clay.) It was sold at drug stores for cleaning uses: wool, flannel and getting grease spots out. When you wanted some at a drug store, someone working there would break off clumps for you, and weigh it out. Charles arranged to buy it from the excavators who were digging up the basements: they were happy to cart it to his store, as he was closer than their normal dumping sites. He then sold it on wholesale to other druggists in moulded, pre-measured rounds at a rate below current prices. This both saved them hassle in their stores, and allowed them greater margins on the product.
Charles used the extra money he made from the clay to buy regular supplies for his drug store. In this way, he was able to procure his regular stock with very little additional outlay. He continued selling the clay until his competitors caught onto the idea. But, by this time, he had managed to save $5,000, which he was to use in his next business venture.
Charles was married twice: upon the death of his first wife, Clara Kate Smith, he remarried to an Emma Wain. He had five children.
While on his honeymoon in New Jersey (possibly to his first wife), he had some herbal tea that he really liked (the honeymoon was probably just on his parent's farm in Roadstown.) When he was back in Philadelphia, he experimented until he had something similar.
He started selling Hires Root Tea in Philadelphia. He continued refining it, then introduced it as Hires Root Beer at the 1876 Centennial Exposition in Philadelphia. He realized the word "beer" would appeal more to men than "tea." Contrary to popular belief, Quakers as a whole are not opposed to alcohol, though some were involved in the Temperance movement.
What he first sold, though, wasn't a bottle of root beer: it was a dry extract in a packet, that you mixed at home with sugar, yeast and water to make up a gallonful of root beer yourself. You boiled the extract in water, strained it, then added sugar and yeast, let it ferment, then bottled it. The ingredient list on the package said: "Made From Finest Grade Honduras Sarsaparilla, Ginger, Sassafras, Hops and other healthful and scientifically blended roots, barks and berries."
Hires RJ Root Beer 12 oz bottle, circa 1948
© Dave Fey / flickr.com / 2008 / CC BY 2.0
1879 — Charles had taken out a patent for the term "root beer", but lost it in 1879 when Congress ruled that generic terms in the dictionary couldn't be patented.
1880 — Charles decided sales would be ever better if it were sold already brewed, so he started selling it that way, as a concentrated liquid extract that you then made it from at home; you still had to boil it, but it was less messy. It was sold as Root Beer Extract in glass bottles, on which the wording "Makes Five Gallons of a Delicious Drink" was embossed in raised glass letters. The extract was still being sold in the 1920s, but by then you no longer had to boil it first. The 1920s package directions suggested that for yeast, you used the brand called "Fleischmann's."
1884 — Charles started advertising his liquid extract in Harper's Weekly.
1892 — Sales of the liquid extract reached three million bottles a year.
1893 — Charles decided to start selling it as a finished, ready-to-drink product in bottles.
1904 — Charles also experimented with making condensed milk; by 1904, he had a condensed milk plant in Malvern, Pennsylvania. Other business activities included going into the wholesale business for vanilla beans (he even went to Mexico to do research, and wrote a book on vanilla), and buying sugar plantations in Cuba.
1907 — Charles moved to 842 Buck Lance in Haverford, Pennsylvania. The house no longer stands; it has been torn down and now is the site of a synagogue.
1918 — Charles signed his name in 1918 to a pro-war statement issued by the Hicksite Friends, a Quaker group belonging to the Society of Friends. The statement was issued March 1918, in response to a statement issued in 1917 by a national Quaker conference on Peace.
1925 — His sons took over the business.
1937 — Charles died 1 August 1937 at age 85 in Haverford, Pennsylvania.
The Hires Root Beer Company is now (2007) owned by Cadbury-Schweppes.
Fans have since complained that it has become harder and harder to buy.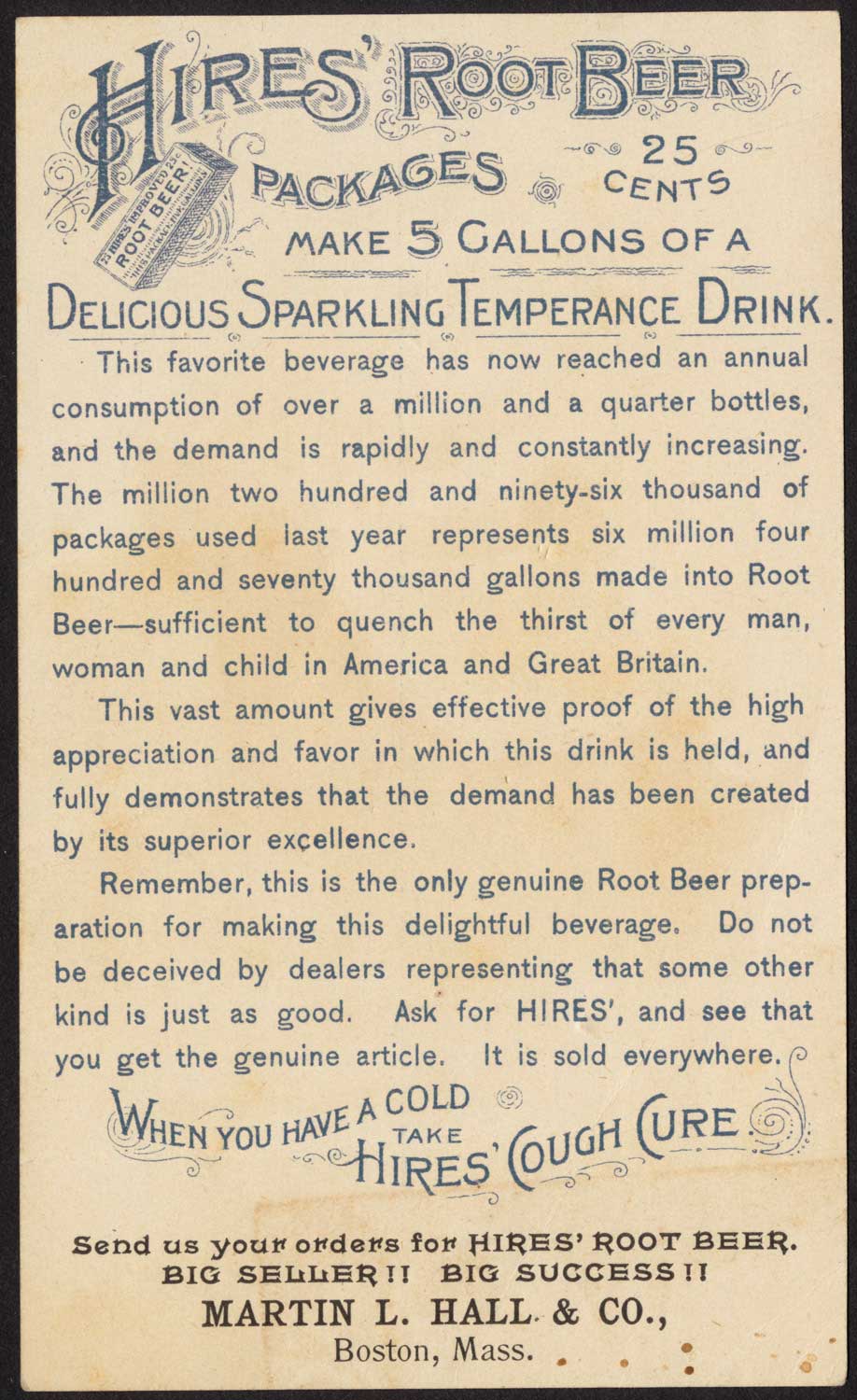 Advertising card for Hires Root Beer, 1891
© Martin L. Hall & Co. Boston, Mass. 1891. / flickr. com / Boston Public Library / CC BY 2.0
Sources
Hires, Charles E. Seeing Opportunities. In "American Druggist and Pharmaceutical Record, October 1913.