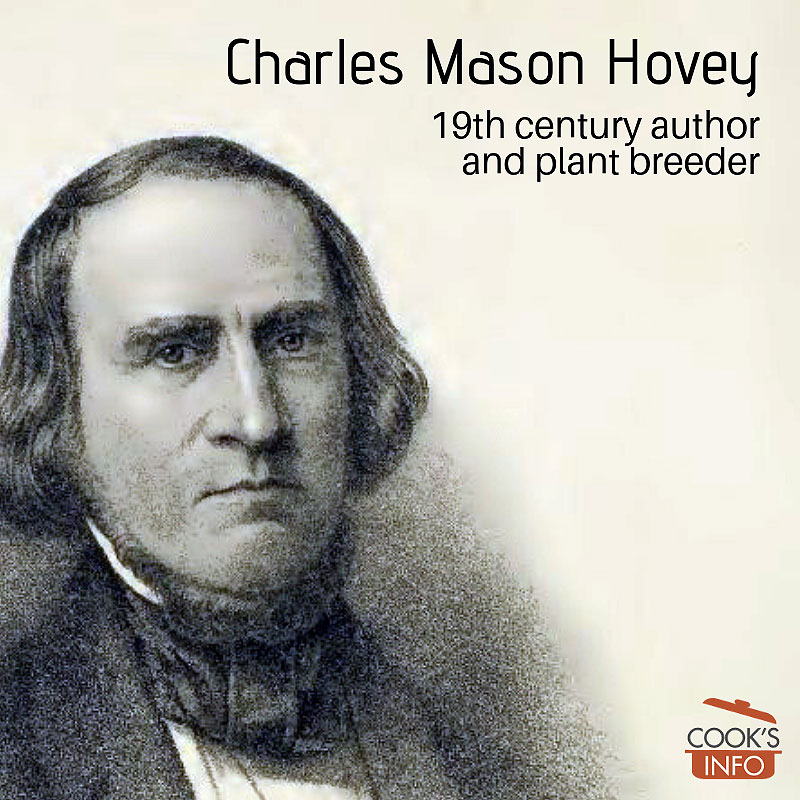 Portrait of Charles Mason Hovey included in his work "The Fruits of America". Wikimedia / 1846 / Public DomainCharles Mason Hovey is known today for his monumental book "The Fruits of America" with its beautiful illustrations. He is also known for his plant breeding and promotion, particularly with strawberries. He promoted the zinfandel grape, and was the one who shipped it first to California.
Early years
Hovey was born 26 October 1810, Cambridge, Massachusetts.
Charles's parents were Phineas Brown Hovey (8 Nov 1770 – 19 Apr 1852) and Sarah Stone (7 Jun 1769 – 9 Dec 1846.) In 1824, he graduated from Cambridge Academy in Massachusetts.
Nursery business
In 1832, at the age of 22, he started a seed store and a small nursery with his brother Phineas in Cambridge.
His work on strawberries
When Charles started his nursery in 1832 he had twelve varieties of strawberries. Only two years later, in 1834, he had 50. Charles was searching for hardier strawberry breeds.
In 1836, he introduced the "Hovey" variety of strawberries. The parentage is uncertain, though as during his plant breeding experiments, his labels got mixed up, so the Hovey could have been the result of one of six crosses he had made.
The Hovey was larger and hardier than other varieties at the time, and with good flavour. But though it gained immediate popularity in New England, other areas of the country didn't seem interested in it. By 1854, he wrote that he didn't feel that further breeding attempts with strawberries would pay much further dividends, and certainly none that would be noticeable to most people.
Magazine
In 1834, at the age of 24, he started a magazine called "American Gardeners' Magazine." He said he had been inspired to start it by the Gardener's Magazine from London.
In 1837, he renamed the publication to "The Magazine of Horticulture, Botany, and all useful discoveries and improvements in rural affairs" (in practice referred to as "The Magazine of Horticulture.") In the preface to the first issue under the new name in 1837, he said the name change was to avoid confusion with other magazines.
He published the magazine until 1868.
Fruits of America
Charles authored the "Fruits of America", two volumes of which were published in Boston by Hovey and Co. from 1847 to 1856. A third volume was started but not completed or published. The two volumes contains over 100 colour plates, which are now quite valuable.
Final years
In 1860, he won a sterling silver ladle for his plant breeding efforts, inscribed: 'N.Y. State Agl Society 1860/ First Premium/ on Pears & Apples/ C. M. Hovey.'
He was the president of the Massachusetts Horticulture Society for four years, from 1863 to 1867.
Charles died on 2 September 1887 at Cambridge, Massachusetts.
Further reading
The Fruits of America. Boston: C.C. Little and James Brown, and Hovey, and Co. 1851. (Links below valid as of August 2019)
Volume Three (never completed or published.)
The Magazine of Horticulture. Vol XIV, January 1848. (Link valid as of August 2019)
Hutchinson, B. June. A Taste for Horticulture. In Arnoldia. Arnold Arboretum of Harvard University. Boston, MA. Vol. 40, 1. Jan / Feb 1980. (Link valid as of August 2019)