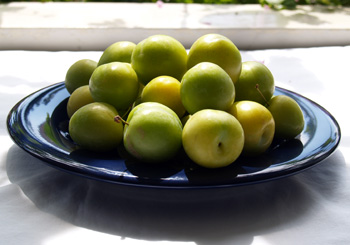 Greengage Plums
© Denzil Green

Greengage Plums are green plums that are very juicy and aromatic. You might think they are tart because of their green colour, but in fact they are very sweet.

The colour of the fruit varies from green to yellowish-green ("Golden Gages") to a translucent green ("Translucent Gages".) When you hold a translucent one against the light, you can almost make out the pit in the middle.

The pit is a clingstone one (i.e. the flesh of the fruit sticks to it.)

Greengage Plums are being grown in America, the UK, New Zealand and Australia.

The tree is self-fertile, and needs a good amount of winter chill to set fruit properly.

Wasps and flies adore the fruit.
Cooking Tips
Greengage Plums are better fresh than cooked, and so are usually eaten fresh, though they are also fine for jam.
Greengage jam will be green.
History Notes
Greengage Plums are probably native to Armenia.
Many sources hold that they were introduced into England by a Sir Thomas Gage (1781 – 1820), an English botanist who lived at his family home, Hengrave Hall, in Firle, near Bury St Edmunds, Suffolk, England. His brother, John, was a Roman Catholic priest near Paris. John purchased the tree along with other fruit trees from the monks at Chartreuse, France, and sent them back to his brother Thomas in England.
Reputedly, according to Frederick A. Roach in his "Cultivated Fruits of Britain. Their Origin and History", the label fell off from this plum tree (which was named "Reine Claude") in shipment, so the gardener named the fruit "Green" because they were green and "Gage" after his employer's family.
Roach also says, though, that he believes the fruit was actually in England as early as 1688, known by its Italian name.
Language Notes
The French and Latin names of "Reine Claude" refer to Queen Claude of France (14 October 1499 to 20 July 1524), daughter of Louis XII of France and then wife of Francis I of France, and mother of King Henry II of France (one of her ladies-in-waiting was Anne Boleyn.)
Sources
Roach, Frederick A. Cultivated Fruits of Britain. Their Origin and History. Oxford: Basil Blackwell. 1985.