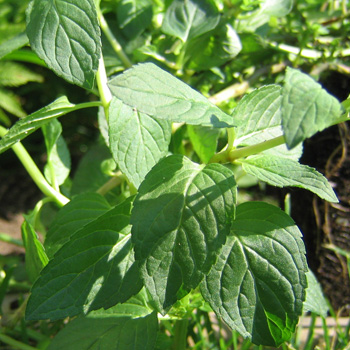 Peppermint
© Denzil Green
Peppermint is a relatively new addition to the mint family. It is thought to have originated when water mint and Spearmint cross-bred by accident; the hybrid was noticed at the end of the 1600s century in England, but it had probably been happening for centuries before that.
Since then, it has become a quintessential English herb grown around the world. It is a perennial that grows about 3 feet (almost 1 metre) tall, spreading by its roots. It's very easy to grow in gardens, as most insects avoid it; but it is best grown in pots or confined areas so that it doesn't take over your entire neighbourhood.
Peppermint extract is used in baking, and in the making of candies such as candy canes and Peppermint patties. The Peppermint flavouring is widely used in gum and toothpaste. Peppermint leaves are used as a tea, as well as in Peppermint jelly and sometimes in the making of mint sauce, though Spearmint is more usual. When used as leaves, a bit of the bitterness comes through as well.
Peppermint is now grown all over the world, as the pureness of its mint taste is superior to that of most other native mints.
Substitutes
You can substitute other mints for Peppermint. However, the reverse is not necessarily true, because Peppermint has a much more dominant flavour than other mints. Iranian, Turkish, and Lebanese recipes make use of mint, but the mint that they use would be a milder one and Peppermint might make whatever you made taste like it had candy cane in it.
Nutrition
Like many other herbs, Peppermint is well-regarded by many people for medicinal properties, such as calming stomachs. Like all herbal claims, they haven't really been investigated as there is no financial incentive for drug companies to invest in something we can grown in our back yards for free, and most governments these days seem to prefer to compete with the private sector, rather than to invest in researching items that the private sector can't. But never mind, we can't change that, can we?
That being said, it appears that Peppermint does actually have some active ingredients, to the point that there is much advice that you should always check with your doctor before deciding to use Peppermint medicinally, as it does interact with some drugs. The general advice is also that Peppermint tea shouldn't be given to young children: if you want to give them an herbal tea to settle an upset stomach, the advice seems to be to try Chamomile tea instead.
Equivalents
1 tablespoon fresh mint (any kind) = 1 teaspoon dried
Storage Hints
You can either wrap fresh mint in damp paper towel and refrigerate in a bag for a few days, or to keep it for up to a week, store with its stems in a glass of water in refrigerator, covered in a plastic bag.
History Notes
Peppermint was officially recognised in writing as a hybrid in 1696 in England. It was first deliberately grown in 1750, in Mitcham, Surrey, England, and there are now many varieties with Mitcham in the name grown around the world, particularly in Australia, New Zealand and most of all, the United States.
Hundreds of acres around Mitcham were cultivated by farmers for growing herbs such as peppermint, lavender and opium (sic). Mitcham was on the Wandle River, allowing these products to be easily shipped out by canal boat. As London grew and started in take in Mitcham, the area become heavily industrialised and unsuitable for growing herbs, so herb cultivation at Mitcham was abandoned and taken up by other areas of the country, and in fact the world — one family from Mitcham emigrated to Australia, founded a town called Mitcham there, and re-established their herb growing business.
Yardley scents and perfumes even got their start in Mitcham, Surrey.
Peppermint water was a street-food drink in mid-19th century London: "Peppermint water, too, was a winter drink: it was mint extract, purchased from a chemist, and diluted, sometimes with pepper added to give it more kick." — Flanders, Judith. The Victorian City. London: Atlantic Books. 2012. Page 287.