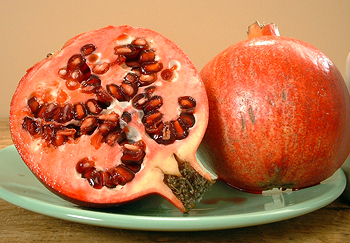 Pomegranates
© Denzil Green

Pomegranate trees grow in tropical areas. The tree starts to flower after 1 year, producing red and white blooms, and then fruit. The fruit is round, anywhere from 3 to 5 inches (7.5 to 13 cm) wide, with a hard skin that is red and yellow-hued, turning a solid red as it ripens. A membrane inside the fruit surrounds the fruit's tangy, juicy flesh with many tasty seeds. The tree grows up to 20 or 25 feet (6 to 7.5 metres) tall, and is cultivated throughout Asia and the Mediterranean, and in California. They are in season from October through to January.

Pomegranates are shipped ready to eat. Choose fruits that are heavy for their weight and firm, with an even-coloured red skin. Most that you get at stores will be shiny as they are coated in wax for shipping; without the wax, the skin will be a dull red, which is still fine. The larger the Pomegranate, the juicier it will be. A Pomegranate has leathery skin and tiny, edible red and white seeds.

Pomegranates used to be used in making Grenadine.
Cooking Tips
Pomegranates are a fruit that you don't just bite into. Halve the Pomegranate, bend the skin back, and jiggle the seeds out. You can eat the flesh as well as the seeds, but discard the membrane: it's safe to eat, but it has a slightly bitter taste. (You don't eat the leathery skin at all.)
If you are going to juice the fruit, roll it around pressing down with your hand. Then cut the fruit open and juice it. Try not to grind the membrane as some of its bitter taste will get into the juice.
The fruit can be eaten raw on its own. You can use the seeds as a dessert topping, as they do in Iranian kitchens, or you can make juice, syrups or jellies from the seeds and pulp. To get the taste from the seeds, you can whiz them in a blender, then strain.
When handling Pomegranates, mind what you get their juice on as it really stains.
Nutrition
Good source of Vitamin C and fibre. 1 Pomegranate has about 100 calories, and contains no sodium.
Equivalents
1 4-inch Pomegranate = approx 1 pound (450g) = ¾ cup of juice or 1 cup of seeds
3 to 4 large Pomegranates = 5 pounds (2 ¼ kg) and yields 4 cups (32 oz / 950 ml) of juice
Storage Hints
They will keep 1 week at room temperature, or up to two months refrigerated.
You can freeze the fruit whole — just wash it and pop into a freezer bag, or you can remove the juice and seeds and freeze those for up to a year.
Literature & Lore
Pomegranates were grown and eaten by the Greeks and Romans.
The Greek myth about Pomegranates has Hades kidnapping Persephone, the daughter of Demeter, and taking her to the underworld. Zeus said that Hades had to free Persephone, provided she had no eaten any food in the underworld. She hadn't eaten at all, but she had sucked on a few Pomegranate seeds, so she had to spend 3 months of each year in the underworld. During those months, her mother Demeter, goddess of agriculture, won't let anything grow, which is winter.
Sources
Singh, Dheeraj and Ranjay K. Singh. Value Addition to Wild Pomegranate Fruit: Blending Scientific Know-how with the Grassroots Knowledge. Arunachal Pradesh, India: College of Horticulture and Forestry, Central Agricultural University, Pasighat-791102, 2003.