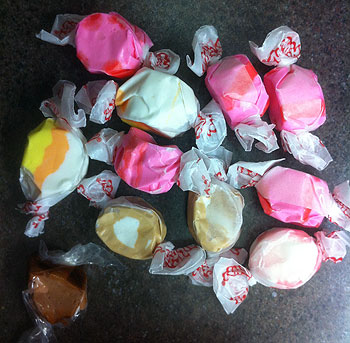 Salt-Water Taffy
Salt-Water Taffy is a marketing name for a certain type of taffy sold as small pieces, generally coloured, and usually individually wrapped in colourful paper wrappers, twisted at both ends to fasten it.
Individual pieces of Salt-Water Taffy are about the size of an American or Canadian quarter. It comes in a zillion flavours.
There is actually no salt water in Salt-Water Taffy, despite the name, though some brands such as Fralinger's will add salt. The origin of the term is more "made by the sea-side" (see history below.)
The recipe for the taffy will vary by maker, and many makers won't of course reveal their recipes. But ingredients may include sugar (and / or corn syrup), cornstarch, glycerine, butter, food colouring, water and flavourings: in effect, the ingredients are pretty much the same as for standard taffy.
Originally, stores would make Salt-Water Taffy in batches of 10 to 25 pounds (4 to 10 kg.) After boiling the mixture, the sticky masses would be slung on hooks for employees to pull. This was often done in an area of the store so customers could watch the process.
Commercially, Salt-Water Taffy is now mostly made and pulled by machine now.
History Notes
Salt-Water Taffy
© Denzil Green
There are many stories as to how the term Salt-Water Taffy was invented.
The one that has the most backing (well, the only one that has any backing) is that the term was first used by a David Bradley in Atlantic City, New Jersey, USA, possibly in the early 1880s [2]. His business partner was a John Cassady. [1] Reputedly, their boardwalk candy store in Atlantic City got soaked by ocean water one night, and he joked to his customers that he now had "salt-water taffy."
Margaret J. Kelly, Bradley's sister, testified during a trademark dispute (see further in this article) that she had worked for her brother in his taffy shop. At that time, the Boardwalk in Atlantic City was closer to the ground. A very high tide one night flooded over the Boardwalk. She said, "The next morning when (Bradley) went to open up his place, everything was just wet and damp with this here high tide. And he went to make a batch of candy and he spoiled it and, of course, he was all out of humor." [3]
According to Mrs Kelly, a little girl did come up to the shop to buy candy, and Bradley did say to her, "You want saltwater taffy, Sis?" The girl's mother thought the name was catchy, and suggested to Bradley that he use it. [3]
The popularization of Salt-Water Taffy as a term, though, seems to have been carried out by a man named Joseph F. Fralinger (1847 – 1927.) Even he, however, credited the term to Bradley: "By 1883, a Mr. David Bradley was advertising 'Taffy' at his stand on the Boardwalk near the David Lindy Baths at St. James Place." Fralinger said he heard customers call Bradley's taffy "Salt Water Taffy", "Ocean Wave Taffy", and "Sea Foam Taffy."
Fralinger had been trying various businesses in Atlantic City, including selling lemonade and cigars. He was invited to take over the running of a taffy shop on Applegate Pier. He started making taffy there in the spring of 1886, which he sold in bags as did other taffy makers. Fralinger's first flavour was molasses, then he added chocolate and vanilla flavours.
Fralinger's genuis was deciding to sell taffy as a souvenir that people could easily take home from their visit to Atlantic City, and Salt-Water Taffy was a perfect name for taffy bought by the ocean. He appears to be the first to make his in small, bite-sized pieces, and to package the taffy in colourful, one-pound (450g) boxes that also served as a keepsake souvenir of Atlantic City.
A man named Enoch James came to town around 1900, and decided he would sell taffy called "Salt Water", too. The recipe he came up with was less sticky, and easier to get out of the wrappers. He also developed machines to do the pulling.
The peak of popularity for Salt-Water Taffy was in the 1920s: over 450 businesses are estimated to have been making it at that time in Atlantic City.
In the early 1920s, a man John R. Edmiston tried to pull a fast one on his competitors by applying for a trademark on the name Salt-Water Taffy, which he actually got on 21 August 1923, American trademark #172,016. He then informed anyone else wanting to use the term that they'd have to pay him to use it.
The Enoch James business contested this before a board of the U.S. Patent Office, called the Board of Examiners of Interference, charged with resolving trademark disputes [3], now called the "Board of Patent Appeals and Interferences." Edmiston's ownership of the term was struck down in March 1925. [4]
The Enoch James company is still in business (as of 2009.) They call their taffy "Original Salt Water Taffy."
The businesses started by Fralinger is also (as of 2009) still in operation.
Language Notes
Salt-Water Taffy is also seen spelt Salt Water Taffy, and Saltwater Taffy.
Sources
[1] Cassady was still listed as a Salt-Water Taffy maker in the 1899 Atlantic City Directory.
[2] Some sources say 1800 which is far too early. Some say 1883. Most histories of the city mention neither year as big storm years, instead citing Sunday 9 September 1889 when a hurricane destroyed the first boardwalk there and put parts of the young city under six feet of water. However, given that David Bradley is cited by Joseph F. Fralinger as using the term "by 1883", an 1889 date is too late, and one might assume a time period of the early 1880s.
[3] Miller, Michael. Story of Saltwater Tafffy No Stretch. Atlantic City, New Jersey, USA: The Press of Atlantic City. 29 May 2008.
[4] "Salt Water Taffy" Makers win fight Against Patent." The New York Times, Monday, 30 March 1925, p. 19.
Lilliefors, Jim. America's boardwalks: from Coney Island to California. James Lilliefors, 2006. Page 16.