Shit on a Shingle (SOS) is a US military food term — unofficial, of course!
It is a dish consisting of a cream sauce with meat in it poured over toast. It is often served as a breakfast dish.
There are some variations, though, and what it means exactly can depend upon which branch of military service it is being served in. See here for the history of shit on a shingle.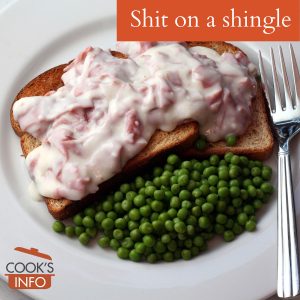 Shit on a Shingle
Shit on a Shingle made with creamed, chipped beef is a classic American military dish. This recipe makes enough for one person for lunch or a light supper; you can easily multiply this recipe as needed. We've tried to make it just a bit healthier than normal by lightening up the white sauce.
Ingredients
Instructions
Wash hands with soap and water; clean work surface.

Chop up the chipped beef roughly, set aside.

Melt the butter in a small saucepan over medium heat along with a few dashes of ground pepper (optional: a dash of ground nutmeg, a pinch of onion powder or a tablespoon of minced onion, a few dashes of Worcestershire sauce, a squirt of mustard.) Don't let the butter brown. As soon as it's just all melted, add the flour, and whisk it in. Let cook for a minute, then whisk in half the milk. As soon as it's absorbed, whisk in the remainder of the milk, then stir in the chipped beef, and set the heat to low.

Pop the bread in the toaster. When it's toasted, arrange the two slices of toast and spoon the beef mixture on top of both.

Serve piping hot.

If you're serving for lunch or dinner, add some side veg for a complete meal.
Notes
You can use white or brown bread. If you aren't counting calories, regular milk is fine -- we just tried to make the dish a bit lower in calories. ⅓ cup is about 3 oz or 75 ml.
Feel free to use a bit more to make the sauce runnier if you like.
Feel free to adjust and play with seasoning; most people seem to feel it's salty enough from the beef without adding more salt.
Nutrition
Nutrition will vary wildly based on the bread and meat you used, and the sauce you made.