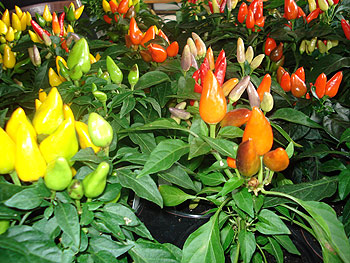 Thai Hot Ornamental Peppers
© Paula Trites
Thai Hot Ornamental Peppers are are edible, and hot, but really have no flavour worth bothering with: thus their name, Ornamental.
The plants grow up to a foot (30 cm) tall. The peppers on them grow up to 1 inch (2.5 cm) long, point upwards from the plant.
The peppers ripen from green to yellow to orange to red.