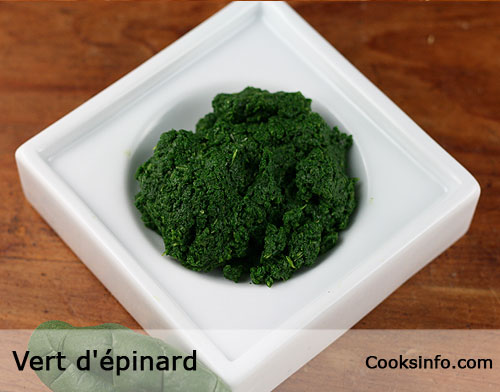 Vert d'épinard
© Randal Oulton

In classical cooking, the French phrase "vert d'épinard" refers to spinach that has had its juice squeezed out of it. It means literally "green of spinach."

You purée the fresh spinach leaves with a bit of water, until the mixture forms almost a mousse. Then you press it through a chinois to force most of the water out. Then, you scrape out the solids in the chinois, and put them in a pan, and heat it to 70 C (158 F.) Sometimes you have to go a bit higher. The goal though is to heat it until the mixture separates into two — water underneath and coagulate spinach fibre on top — without going so high that the vibrant green colour of the spinach starts to change.

The resultant spinach fibre was classically used to colour dishes — even icings on cakes, though the concentrated spinach flavour does of course come through.

In modern usage, "vert d'épinard" may just refer to a handful of fresh spinach.
Cooking Tips
100 g (4 cups / 3 ½ oz) of washed fresh spinach leaves
½ cup water
Yield: 50 g (3 tablespoons)
You can make vert d'épinard in advance (in fact, it makes your cooking day less stressful if you do), but it needs to be used up within 1 to 2 days.
Vert d'épinard: Step 1 blend with water
© Randal Oulton
Vert d'épinard: Step 2 press
© Randal Oulton
Vert d'épinard: Step 3 heating gently
© Randal Oulton
Vert d'épinard: Ready to use
© Randal Oulton
Substitutes
Frozen spinach thawed retaining water, whiz with the retained water in a food processor or chop very finely, then press through a sieve then patted dry between paper towelling.
OR Green food colouring.