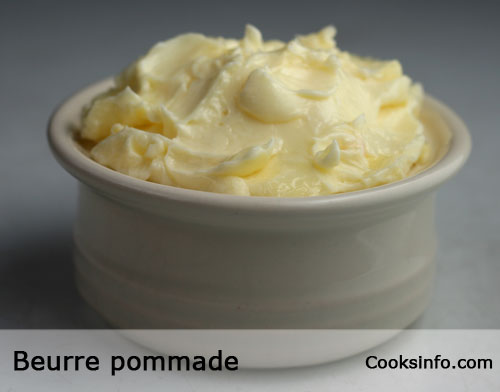 Beurre Pommade
© Randal Oulton
Beurre pommade is butter that has been let come to room temperature (20 to 30 Celsius / in the 60s F range) so that it is quite soft, like a face cream. If you wish, think of it as butter that has softened to the point that it is spreadable.
The softness allows it to be spread, or to be easily mixed in with other ingredients.
Beurre pommade is used mostly as an ingredient in other dishes, such as certain pastry recipes. It is also used a great deal in making composed butters and beurre manié. It can be used to butter canapés, or to butter bread in making fresh or cooked sandwiches such as croque-monsieurs.
Cooking Tips
Butter will take about two hours to soften to the "Beurre pommade" stage of room temperature once set out of the fridge. If butter is almost at this stage, but you need it right away, you can speed things up by working it with your hands. If you're starting with rock-hard butter, and don't have the time to let room temperature work its magic, you can speed things up by cutting the butter into small pieces, and giving it several zaps in a microwave on the defrost setting, alternating zaps with mixing and pressing it with a plastic spatula (or you can do this with your hands, if the butter doesn't get too hot.) If the butter does get too hot, and in fact you have gone so far with the heat that the butter has melted into an oil, then you'll have to put it in the fridge until it starts to solidify and becomes creamy again.
Language Notes
"Passer de la pommade à quelqu'un" means "to butter someone up."