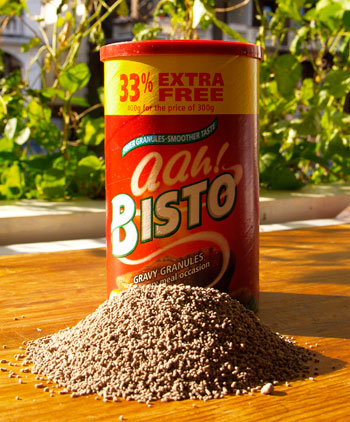 Bisto Granules
© Denzil Green

Bisto is a powder for making gravy with.

It comes in flavours such as beef, vegetable, chicken, curry, onion flavoured, cheese, and white and parsley sauces (launched 1984.)

It can be added into casseroles, stews and soups to thicken and add flavour.

It has been sold in granule form as well since 1979. Granules don't even need any drippings or meat juices to make gravy from — you just put them in a heatproof jug or bowl, pour boiling water in, whisk for about 30 seconds, and you have gravy. But you can still add these to meat drippings, and / or dress up and flavour however you want.

The packages it is sold in are boxes, jars or cardboard tubes. You spoon out what you need. Each package will make many, many batches of gravy.

The gravy powder is the original form.

Many of Bisto's products, despite the name of a meat appearing in a description, may actually be suitable for vegetarians. But you have to check the package. As of 2006, Bisto Gravy Mix, in 3kg catering industry sizes, is not suitable for vegetarians, while the 5 litre sizes are marked as being suitable.

Bisto has been sold in Canada for decades, where it is very well-known (and panic would ensue if it disappeared.) In Canada, it is made under licence by the Campbell soup company.

It is very hard to find in America, if you can at all. Some A&P stores in Vermont started to carry it at the end of 2005.

In general, it is made from potato starch, salt, wheat starch, colour, dried yeast, and onion powder.

The original gravy powder contains Corn starch, Caramel, Salt, Wheat starch, Soya flour, Hydrolysed plant protein, Torula yeast, Carrot and Onion powders.

In spring 2011, Premier Foods, the maker of both OXO and Bisto, announced that both products would become available as premium products, in the form of paste in a squeezy tube. The regular cube form would continue to be available. The OXO tube flavours at first would be beef, chicken and vegetable; the Bisto flavours would be beef, chicken and onion.
History Notes
Bisto was invented by two men named Roberts and Patterson in 1908. They were coworkers at the Cerebos salt plant in England.
One story has it that their wives challenged them to come up with something that would help them turn our perfect gravy. A few sources say that the "Mr Robert" was actually a Jim McRobert, who was Managing Director, and that his wife was Elizabeth Harrison.
Cerebos was bought out by RHM (Ranks Hovis McDougall) group in the 1960s.
To this day (2006), however, Bisto's head office remains at Cerebos House, Booth Lane, Middlewich, Cheshire.
People at the factory had to wear hair "turbans" to contain their hair: brown ones if they were working on the Bisto side, white if they were working on the ("Saxa brand") salt side of things.
In 2006, 18,000 tons of it were sold, with sales rising 5% a year. Outside the UK and Canada, Bisto is also very popular in Belgium.
Language Notes
Bisto is now said to be short for "Browns, Seasons and Thickens all In One." It wasn't originally though — originally, it was just a made-up word and still was when it went to the stores for the first time in 1910. The explanation for it was made up later.
Sources
Poulter, Sean. From Oxo cube to Oxo TUBE: Roast dinner favourite to be sold as a paste. London: Daily Mail. 17 March 2011.