Catherine Emily Callbeck Dalgairns (aka Mrs Dalgairns) was a Canadian / Scottish cookbook author. She was an upper-middle class amateur cook very interested in food. She wrote "The Practice of Cookery Adapted to the Business of Every-day Life", first published in 1829.
Occasionally, you may see Dalgairns referred to as perhaps the first "Canadian" cookbook author. Her Canadian association is tenuous, though, and mostly an accident of birth. It may be more accurate to term her, as does one of her biographers (Mary F. Williamson), a 'British North American'. [1] Williamson, Mary F. The publication of "Mrs. Dalgairns' Cookery": a fortuitous nineteenth-century success story. Toronto, Canada: Bibliographical Society of Canada. 22 March 2007. Page 45. Or perhaps more precisely a "Scottish North American" cook, given that one of her reviewers said she demonstrated "too palpable an addiction to Scotch dishes." [2]Foreign Quarterly Review 33 (Apr. 1844) : 109. Cited in Williamson, Mary F., page 45.
The Practice of Cookery
The goal of Dalgairn's book was to enable any cook or housekeeper of limited experience to know how to prepare well most of the dishes that were in fashion at the time. Dalgairn said that she hoped that, at the same time, it might "be no less useful to the mistress of a family, if required for occasional reference."
She stated at the outset that she was not providing any new recipes, but trying to select the best amongst those "already established in public favour." She either tested them herself, or relied on the opinion of "persons whose accuracy in the various manipulations could be safely relied upon."
Instead of doing all her introductory remarks lumped together at the beginning of the book, she put relevant remarks at the start of each chapter. She provided both a chapter list at the front, and an index at the back.
1845 chapter list for "The Practice of Cookery":
| | |
| --- | --- |
| 1. Soups | 14. Creams, Custards, &c. |
| 2. Fish | 15. Cakes, &c. |
| 3. Beef | 16. Preserves |
| 4. Mutton | 17. Vinegars, Pickles |
| 5. Lamb | 18. Domestic Wines |
| 6. Veal | 19. Miscellany |
| 7. Pork | 20. Poultry Yard |
| 8. Poultry | 21. Dairy |
| 9. Curries | 22. Brewing |
| 10. Game | 23. Kitchen Garden |
| 11. Gravies, Sauces, &c. | 24. Bees |
| 12. Vegetables | 25. Pigs |
| 13. Pudding, Pies, Tarts | Appendix |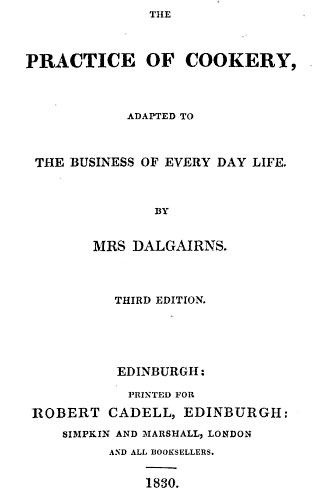 First published in 1829, the book was republished up until 1860. An 1830 Boston / New York edition had 1419 recipes in it. The 1840 (8th) edition was published in Edinburgh by Robert Cadell. The 1845 edition, published by Richard Griffin, had 1597 recipes in it. Later editions included additions such as a third appendix which were not written by her.
Chronology of her life
Authoritative, detailed work on her life has been done by Mary F. Williamson (See Further Reading below.)
Catherine was born into a privileged family in Charlottetown, Prince Edward Island (PEI), approximately in the late 1780s. She had three sisters, and two brothers. She was very much a child of the British Empire. Though born on Prince Edward Island, she had relatives in Ireland, England and in the American colonies.
Her parents were Phillips (sic) Callbeck (1743 to 28 February 1790) and Anne Coffin (1752 to 15 October 1826.) Phillips Callbeck was Attorney-General and Surrogate-General of Probate of the Island of St John (aka Prince Edward Island), then president of His Majesty's Council for the same colony. He owned 20,000 acres of land there. During the American Revolution, he was taken prisoner during a sally by two American privateers into Charlottetown Harbour, taken south to the American colonies, and handed over to Colonel George Washington. Washington set him free with a letter of apology.
On 11 September 1808, Catherine married Peter Dalgairns (born in Scotland on 29 October 1793. [3]Williamson, Mary F. "Catherine Emily Callbeck Dalgairns." Email to Randal Oulton. 7 June 2008.) The couple left PEI sometimes shortly afterward, even though Peter owed a good deal of money to his brother-in-law. [4]Williamson, Mary F. "Catherine Emily Callbeck Dalgairns." Email to Randal Oulton. 7 June 2008. The couple lived first in London, then moved to Dundee, Scotland around 1822. In 1829, she published her cookbook. The couple never returned to Prince Edward Island. [5] Sources such as The Prince Edward Island Register newpaper and the books of Lorne Callbeck assert that Peter returned to PEI by the 1830s, where Peter was chosen the Speaker of the House of Assembly. This appears to be incorrect. The Speakers of the PEI House of Assembly over the period were John Stewart (1825 to 1831); Ewan Cameron (1831 to 1835); George Dalrymple (1835 to 1839); and William Cooper (1839 to 1843.)
Catherine and Peter both died in Dundee, Scotland: Catherine on 1 March 1844 and Peter in 1853. [6]Williamson, Mary F. "Catherine Emily Callbeck Dalgairns." Email to Randal Oulton. 7 June 2008.
Literature & Lore
This is an 1829 review of Dalgairn's book from an unnamed reviewer. The review appeared in: The Mirror of Literature, Amusement, and Instruction. Vol. 13 Issue 367 – 25 Apr 1829. Page 12.
"We like the title of this book — there is promise in it, for practice is better than profession in any thing but the law of arrest. We are gross enough too, in our hearts, not to like the name of a professed cook — thank our stars, now nearly forgotten. There is so much science implied in the name, so much theory, than which alone in cookery, at least, nothing is less inviting. We should conceive the intention of this book to bring cookery home to the business of every man's mouth — his breakfast, luncheon, dinner, and supper practice, and heartily do we wish that all mankind were in a condition to avail themselves of these four quotidian opportunities of testing Mrs. Dalgairns's book.

"A perfectly original book of Cookery," says Mrs. D. "would neither meet with, nor deserve, much attention; because, what is wanted in this matter, is not receipts for new dishes, but clear instructions how to make those already established in public favour." This reasoning is very just, for none but the most thankless of gourmands, or the gourmet who wished to affect the sorrows of the great man of antiquity, — would sit down and weep for new worlds of luxury. Good cookery is too rarely understood and practised to justify any such wishes; and to prove this, let the sceptic go through Mrs. Dalgairns's 1,434 receipts, and then "tire and begin again."

Our respected editress assures us that "every receipt has either been actually tried by the author, or by persons whose accuracy in the various manipulations [3] could be safely relied on."

[3] This is an unlucky word for a cookery book. Why not say operations? Mrs. D. Mrs. D! you have not escaped the scientific mania that is mounting from area to attic throughout this country. Such a term as manipulation sounds well enough in Mr. Brande's laboratory at the Royal Institution, but would be quite out of place in the kitchen of either of the hotels in the same street. A footman might as well study the polarization of light whilst cleaning the drawing-room windows.

From a table of contents we learn that among them there are the following methods:–

Soups 105
Fish 115
Beef 70
Mutton 31
Veal 60
Gravies, Sauces, &c. 104
Puddings, Pies, and Tarts 263
Creams, Custards, &c. 134
Cakes and Preserves 182

What more can mortal man desire, "nay, or women either." Appended to them is much valuable information concerning the poultry-yard, dairy, brewery, kitchen-garden, bees, pigs, &c. so as to render this Practice of Cookery a truly useful and treasurable system of domestic management, and a book of matters-of-fact and experience. The subject is too melting — too tempting for us to resist paying this tribute to Mrs. Dalgairns's volume."
Further reading
Williamson, M. F. (2007). The Publication of "Mrs. Dalgairns' Cookery": A Fortuitous Nineteenth-Century Success Story. Papers of The Bibliographical Society of Canada, 45(1). 2007. Available online at https://jps.library.utoronto.ca/index.php/bsc/article/view/18494 (link valid as of August 2019)
| | | |
| --- | --- | --- |
| 1. | ↑ | Williamson, Mary F. The publication of "Mrs. Dalgairns' Cookery": a fortuitous nineteenth-century success story. Toronto, Canada: Bibliographical Society of Canada. 22 March 2007. Page 45. |
| 2. | ↑ | Foreign Quarterly Review 33 (Apr. 1844) : 109. Cited in Williamson, Mary F., page 45. |
| 3. | ↑ | Williamson, Mary F. "Catherine Emily Callbeck Dalgairns." Email to Randal Oulton. 7 June 2008. |
| 4. | ↑ | Williamson, Mary F. "Catherine Emily Callbeck Dalgairns." Email to Randal Oulton. 7 June 2008. |
| 5. | ↑ | Sources such as The Prince Edward Island Register newpaper and the books of Lorne Callbeck assert that Peter returned to PEI by the 1830s, where Peter was chosen the Speaker of the House of Assembly. This appears to be incorrect. The Speakers of the PEI House of Assembly over the period were John Stewart (1825 to 1831); Ewan Cameron (1831 to 1835); George Dalrymple (1835 to 1839); and William Cooper (1839 to 1843.) |
| 6. | ↑ | Williamson, Mary F. "Catherine Emily Callbeck Dalgairns." Email to Randal Oulton. 7 June 2008. |