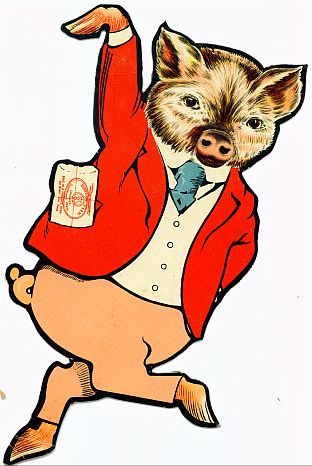 Deerfoot Sausage Logo
Deerfoot was a highly-esteemed brand of Sausage in America, often mentioned by brand name in menus.
The Deerfoot Farms Company was started in 1847 by Joseph Burnett (born 11 November 1820 in Southborough, Massachusetts; died 11 August 1894) as a dairy business, with the purchase of two farms. He was actually a trained pharmacist. He added pork and sausages to his product lines in 1871. The sausage and pork meat parts (spare ribs, bacon and "Deerfoot smoked Daisy Hams") came to be bigger than the dairy part of his business, but the dairy operations were continued nonetheless.
By 1883, Joseph's son Edward (1849 – 1925) had taken over the business. By this year, he had 50 Jersey cows, from which he was getting 14 to 16 pounds of butter a week. Edward was a big proponent of automation, and noted for his use of a centrifugal cream separator. He could have cream separated, bottled and on its way to Boston within 1 hour of the cows being milked. By 1890, the farm's operations encompassed 800 acres.
Deerfoot Farm's control over the quality of their sausage started right with the line of pigs used. Breeding stock pigs were raised at the farm, then given to farmers in Vermont and New Hampshire to breed pigs from. When the offspring reached give months, they were transferred back to Deerfoot, and fed there at Deerfoot to give the Burnetts control over the final finishing of the meat until the pigs were slaughtered at eight months old. For the sausages, meat from the hams, shoulders and spare ribs was used. All meat processing was done completely on the farm — right down to wrapping the sausages for sale.
The sausages were sold wrapped in parchment packages of 1 pound and 2 pounds each. The package advised to "Bake in a moderate oven."
They also made all beef franks (aka hot-dog wieners.)
Their sausages were more expensive than other sausages on the market, by a great deal. Though their advertising would sometimes point out that all production was done in-house, "thus saving all the profits usually divided with the dealer and the middlemen" (as noted in the Bismarck Daily Tribune of North Dakota on 20 May 1890), the company's slogan was: "they cost more — try them and see why." In 1906, Deerfoot sausages sold for about 25 cents a pound in Fitchburg, Massachusetts, at a time when other brands of sausages would sell for 12 to 18 cents a pound. By 1933 in the same city, they had risen to 41 cents a pound (other sausages 25 to 29 cents a pound.) By December 1972, Deerfoot Sausages were advertised for 95 cents a pound, not too far off other sausages being sold for 89 cents a pound to $1.19 a pound for the Oscar Meyer.[3] [4]
History Notes
Deerfoot Farm money helped found and endow a famed New England boys private school in 1865 called "St Mark's School" in Southborough, Massachusetts, as well as the accompanying St Mark's Episcopal Church (in 1862, erected 1864), and another school, Fay School, in 1866. Famed graduates of the school included Joseph Pulitzer, after whom the American Pulitzer prize is named. [1]
Joseph was killed in 1894 when the horse pulling his carriage, startled by a newly-introduced electric trolley, reared up and threw him from the carriage.
Sometime in the early 1930s, the company and the brand were purchased by National Dairy.
During the Second World War, Deerfoot Farm had a contract to supply canned meat products for American and allied soldiers.
Deerfoot was referred to in passing in a 1947 article ("The Creative Response in Economic History") by the economist Joseph Schumpeter, when he wrote referring to innovation, "It should be stressed at once that the 'new thing' need not be spectacular or of historic importance. It need not be Bessemer steel or the explosion motor. It can be the Deerfoot sausage."
In 1956, the company was purchased by Hygrade Food Products, but use of the Deerfoot name continued. [2]
The last mention CooksInfo.com has found to date (2010) of Deerfoot Sausage is in a grocery advertisement from December 1972. [3]
Literature & Lore
American food writer Clementine Paddleford featured the sausages in a short (undated) publication: A Little Journey to Deerfoot Farm with Some Interesting Menus and Recipes.
"Perhaps you have for breakfast poached eggs on toast, Deerfoot sausage or boiled ham. One of the above, with your other dishes, is enough for a person employed indoors." — Rufus Estes. Good Things To Eat, As Suggested By Rufus. Chicago: The Author. 1911.
"On Thanksgiving morning 1942, President Franklin D. Roosevelt spoke to the nation in a hymn-singing and prayer service that was broadcast on a nationwide radio hookup from the White House. After the broadcast, the president and Mrs. Roosevelt, accompanied by a few guests, sat down to a holiday dinner of turkey with chestnut dressing, deerfoot sausage, cranberry jelly, pumpkin pie and coffee. After dinner, FDR and his staff returned to the Oval Office and work." — Frederick N. Rasmussen. Another wartime Thanksgiving. Baltimore Sun, Nov 27, 2004.
"Christmas Dinner, The White House: Oyster cocktail, Clear soup with sherry, Roast turkey, Chestnut dressing, Cranberry jelly, Deerfoot sausage, Beans, Cauliflower au gratin, Casserole sweet potatoes with orange, Grapefruit and avocado salad, Plum pudding, Hard sauce, Coffee." — "White House Menu Today," The New York Times, December 25, 1942 (p. 9)
Sources
[1] MHC Reconnaissance Survey Town Report: SOUTHBOROUGH. Report Date: 1983. Associated Regional Report: Central Massachusetts. Page 7.
[2] Gatehouse Media. Mr. Know-it-all: When Deerfoot Farm made dough in Southborough. 4 September 2004. Retrieved December 2010 from http://www.milforddailynews.com/lifestyle/columnists/x349380821
[3] Ad placed by "Finast" stores (First National Stores.) Assabet Valley Beacon. Acton, Massachusetts. 7 December 1972. Page 11. Column 9.
[4] Ad placed by J.M. Fields Supermarket. Lowell Sun. Lowell, Massachusetts. 20 December 1972. Page 28.
Raising Cream on Deerfoot Farm. The Journal. Denton, Maryland, 14 April 1883. Page 4.
The Bridgeport Telegram. Thursday, October 25, 1923 Bridgeport, Connecticut
Complete history available in: Doucette, Paul A.. A history of Deerfoot Farms. Southborough Historical Society, Massachusetts.