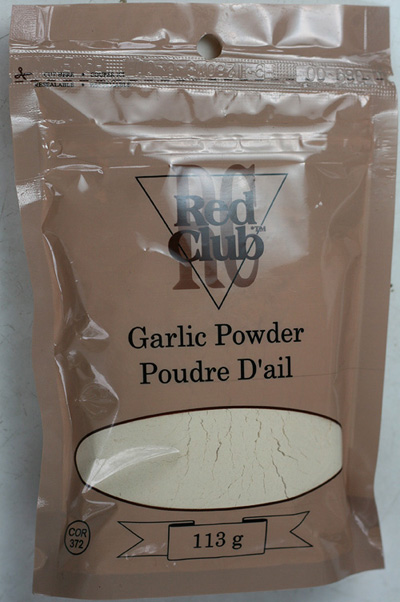 Garlic Powder
© Randal Oulton
Garlic Powder is powdered garlic, usually pure. It may contain another ingredient such as sodium bisulphite to help prevent browning.
It is used as a seasoning.
To make it, garlic is flaked, then dehydrated. The dehydrated flakes are then ground in a mill to a creamy-brown coloured, fine powder.
It is sold in bottles or packets and is unusually inexpensive.
Cooking Tips
It dissolves easily in liquids.
Nutrition
Some garlic powders are reputedly fine to eat for those who are otherwise allergic to garlic; consult with a doctor.
Equivalents
1 tablespoon = ⅓ oz = 8.5g
4 ½ tablespoons = 1 oz = 30g
¾ teaspoon = 1 tablespoon of minced fresh garlic
¼ teaspoon = 1 whole garlic clove
Storage Hints
Store in a dark, cool place at room temperature in a tightly-sealed container for up to 18 months. It will clump into unusable lumps if exposed to humidity or moisture in the air. If it does, you may be able to salvage some of it by putting small chunks into boiling-hot water and stirring.