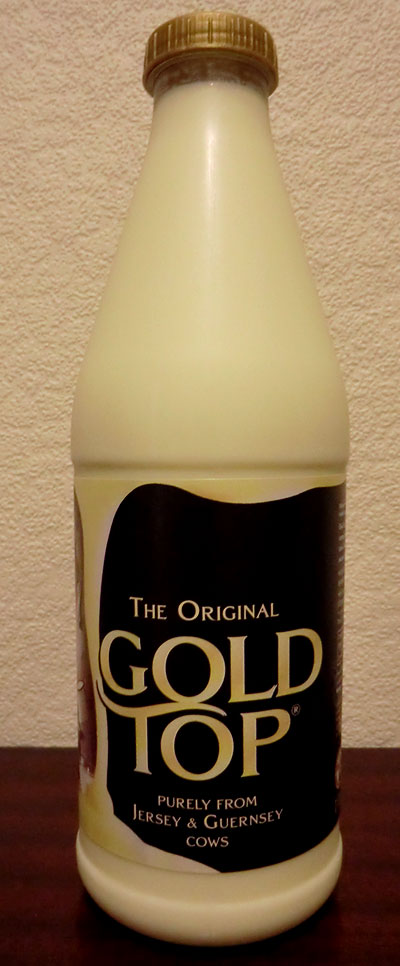 Gold Top Milk
© Iain Sinclair
Gold Top™ is the trademarked brand name of a very thick, yellowish milk that comes from either Jersey or Guernsey Cows or is a blend of milk from both, from anywhere in England, Scotland or Wales.
It's 5% fat. When you open the bottle, you can actually see the head of cream at the top of the milk, just like in the old days: though it's pasteurized, it is not homogenized. A homogenized version is available though from time to time, sold as "breakfast milk."
Gold Top is very good in coffee, and on cooked and uncooked breakfast cereals. The English food writer Delia Smith recommends it for use in making items such as sauces, custards, rice puddings, etc.
It has become a niche product and is generally priced higher than other milks. The 2013 price is about £1.10 a litre.
Sometimes, a more generic term such as Channel Island milk" is used, but that is a misleading term. The milk will have come from England, Scotland or Wales, but not actually from any of the Channel Islands. The Channel Islands market their own Jersey or Guernsey milk products under other names.
For a few years in the early 2000s, the ASDA grocery chain marketed their own brand as ASDA Jersey & Guernsey milk, and Tesco marketed their own brand as "Tesco's Finest Channel Island" milk. By 2013, though, Tesco's had stopped trying to promote its own version and now sells actual Gold Top instead.
Gold Top Milk is produced by a dairy co-operative named "Quality Milk Producers Ltd" headquartered in Rickmansworth, Hertfordshire. The distributor is Highgrove Food Distribution Ltd, located in Wootton Bassett, Wiltshire. There is no one single farm or dairy that will always supply the milk; it can be any farm within the co-operative anywhere in the three countries.
The side of the bottle will usually say which particular dairy was responsible for that particular bottle, marketing it under the "Gold Top" name under licence from the cooperative. The same dairy may also at the same time sell Jersey or Guernsey milk outside of the "Gold Top" label.
As an example the bottle shown here (purchased at a Waitrose in London in 2013) was actually produced by "Grahams, The Family Dairy" in Stirling, Scotland. That dairy, in addition to producing for the Gold Top line, and making other dairy products, also sells pure Jersey milk under the brand name of "Graham's Gold."
Substitutes
Light cream
Nutrition
Compared to regular milk, Guernsey milk contains 12 % more protein and 15 % more calcium, while Jersey milk contains 18 % more protein and 20 % more calcium.
Gold Top milk can successfully replace the use of cream in many recipes such as sauces, custards, quiches, etc, which helps to greatly reduce the fat content of dishes while maintaining their consistency.
Nutrition FactsPer 100 ml (3.4 oz)
AmountCalories
81Fat
5.2 gSaturated
3.4 gCarbohydrate
4.7 gFibre
0 gSugars
4.7 gProtein
3.7 gCalcium
134 mg
Storage Hints
Store refrigerated.
History Notes
Gold Top milk was introduced in the 1950s after Jersey and Guernsey cow farmers in England, Wales and Scotland formed a co-operative named "Quality Milk Producers Ltd." in 1954. The brand name of Gold Top was registered in the 1970s.
Many people used to ask their milk men to leave a pint of Gold Top on the weekends as a treat.
In 2003, a light semi-skimmed version was trialled to appeal to consumers wanting a lower fat content, but it seems to have been discontinued.
Sources
About us. Retrieved October 2013 from http://www.goldtopmilk.co.uk/about-us/.
Derbyshire, David. Dairy men push for revival of Gold Top. London: Daily Telegraph. 1 July 2006.
Food Trade Review. Highgrove Foods targets younger market. Food Trade Press Ltd. 1 May 2003.
Keeley, Graham. Delia's Golden Touch; Gold Top Milk Making a Comeback after Cook's Tips. London: Daily Mail. 22 May 2001.
Nutrition. Retrieved October 2013 from http://www.goldtopmilk.co.uk/nutrition/.
Quality Milk Producers Limited. Retrieved October 2013 from http://www.uk.coop/organisation/3236
Quality Milk Producers Annual General Meeting notes 2009. Retrieved October 2013 from http://ukguernsey.com/cms/the-news/162-quality-milk-producers-agm-2009.html