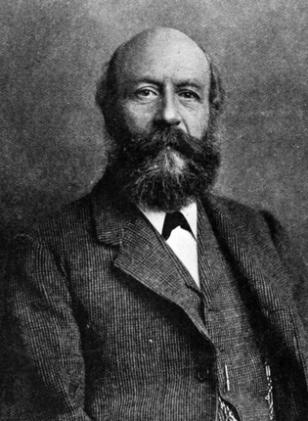 John Cadbury
The start of the Cadbury dynasty
The Cadbury family dynasty was started in 1824 by John Cadbury (12 August 1801 – 11 May 1889), and strengthened by his sons George and Richard. A devout Quaker, John saw cocoa and chocolate as healthy alternatives to alcohol. He also led a campaign to prohibit the employment of boys as chimney sweeps, and formed the Animals Friend Society, the predecessor to the Royal Society for the Prevention of Cruelty to Animals. The same Quaker motivation in his descendants led to the foundation of Bournville Village in the late 1800s for both Cadbury's factory and its workers, and in turn inspired his American competitor, Milton S. Hershey, to do the same. [1]
1801 — John Cadbury is born. His father was Richard Tapper Cadbury (c. 1768 — 1860.) Originally Quakers from Exeter, his parents moved to Birmingham in 1794, and set up a silk and drapery shop, and became quite wealthy. John had nine brothers and sisters: James, Ann, Maria, Lucretia, Sarah, Emma Joel (1811 — 1905), Elizabeth Head, Richard, Benjamin Head, and Joel. Some sources say that no higher education routes were open to John, but that's not quite true: the Manchester Academy in York (now Manchester-Harris College at Oxford University) was open to religious nonconformists. In any event, John decided to follow a career in business.
1818 — At the age of 17, John apprenticed with a tea dealer in Leeds.
1824 — At the age of 23, John returned to Birmingham and opened a one-person shop at 93 Bull Street, next to his father's store which sold drapery and silk, in a fashionable part of town. John sold tea, coffee, hops for beer, mustard and drinking chocolate (aka cocoa.) He had a plate glass window installed (a novelty for the time), and hired a Chinese man to work the counter in Chinese costume. John started advertising himself right away. He placed his first newspaper advertisement on 1st March 1824 in the Birmingham Gazette. To make drinking chocolate, he ground up the cocoa beans in mortars and pestles, blended it with sugar, and formed it into blocks for the customers to take home. Customers would use it by scraping some off as a powder into hot water or milk.
1826 — John married Priscilla Ann Dymond (1799 -– 1828.)
1828 — Priscilla died. The couple did not have any children.
1831 — John decided to expand his capacity in cocoa and drinking chocolate. He kept the store, but he rented an old malthouse to use as a factory for chocolate manufacturing.
1832 — John remarried to Candia Barrow (1805 -–1855.) They would have seven children in all, though one died as an infant and only three others made it past the age of thirty-two. The children were: John (1834 — 1866), Richard (1835 — 1899), Maria (1838 — 1908), George (19 September 1839 — 1922), Joseph (1841 — 1841), Edward (1843 — 1866), and Henry (1845 — 1875.)
1839 — John and Claudia were living in Edgbaston, Birmingham.
1842 — By now, John was making eleven different kinds of cocoa, and sixteen different kinds of drinking chocolate.
1847 — John rented a larger factory on Bridge Street , in Birmingham city centre off Broad Street. Up till now, his brother, Benjamin Head Cadbury (1798 — 23 January 1880; married Candia Wadkin 1803 — 1887: no sons, seven daughters) had worked in their parents' drapery shop. In 1847, John brought Benjamin into the business as a partner, and they traded as the "Cadbury Brothers of Birmingham."
1849 — John got his nephew, his sister Sarah's son, Richard Cadbury Barrow, to look after the retail side of things in the store on Bull Street. That small store would evolve into the Barrow Stores of Birmingham, which lasted in business until the 1960s.
1850 — John brought his son Richard on board. Richard was just fifteen at the time. Richard would later marry an Elizabeth Adlington (1838 — 1868); they seem to have had around 24 children, one of which was William Adlington (1867 — 1957), later to play a large role in the business. William himself would later have close to 20 children.
1854 — On 4 February, Cadbury's received a Royal Warrant from Queen Victoria.
1855 — John's second wife, Candia, died.
1856 — John brought his son George on board. George was seventeen at the time.
1860 — John and Benjamin's father, Richard, died on 13 March 1860 at the age of ninety-two. In the same year, John dissolved the partnership with Benjamin, leaving Benjamin with the Barrow stores.
1861 — John retired, passing the business to his sons Richard and George. Richard was twenty-five at the time; George was twenty-one. They found business for the next five years quite hard going, and contemplated giving it up, but they saw it through. George would later marry Elizabeth Mary Taylor (1858-1951.) They would have close to twenty-five children, including Laurence John (1889-1982), who would later become chairman of the business, and after him, two of his sons, Adrian and Dominic. [2]
1861 — Richard moved to 17 Wheeley's Road in Birmingham. He would live here until 1871.
1866 — With the advent of a process to extract cocoa butter from cocoa beans, the brothers were able to make eating chocolate. This helped them turn the corner on the five tough years they had had.
1872 — George moved to live at 32 George Road. He would live here until 1881.
1875 — Cadbury's produced its first Easter Eggs.
1878 — Cadbury's now had 200 people working for them. The company Cadbury's purchased 4 ½ acres of the Bournbrook Hall estate just outside Birmingham, four miles south of Birmingham city centre, between the villages of Stirchley and King's Norton. They renamed "Bournbrook" to Bournville, to make it sound more French — French chocolate was seen as the quality to beat at the time. The site was named after the brook named "Bourn" that ran through it. It was close to railway lines and the Worcester Canal that went into Bristol, where coffee beans could be landed from abroad. The space would provide better working conditions, as well as cheaper land now and in the future for expansion. A fire later in the year in their factory, on 23 November 1878, doesn't seem to have done substantive damage.
1879 — Construction at Bournville started in January 1879. The old Bridge Street site was closed in July 1879. Cadbury's made sure they had enough inventory to last them a few months in between factories. Operations started at the new factory in Bournville in September 1879. At the same time as the factory was being built, Cadbury's had twenty-four houses constructed for a few key workers.
1880 — Benjamin Cadbury dies, 23 January 1880, eighty-two years old.
1800/81 — George moved to a house on Bristol Road, Birmingham. It had ten acres and a lake.
1881 — Cadbury's exports product for the first time. The destination is Australia.
1889 — John died on 11 May 1889. In his will, he left the Bristol Road house to the Quakers.
1890 — George purchased a house on Bristol Road South in Northfield, Birmingham called "New House", and renamed it to "Manor House" (since then, often referred to as "Northfield Manor House.") They moved into the house in 1894 after a few years of renovations. The house remained in the Cadbury family until the 1950s, when it was sold to the University of Birmingham.
1895 — Cadbury's decided to build an entire village at Bournville. They purchased an adjacent 120 acres of land. Though they wanted to provide affordable housing for workers, they also wanted non-Cadbury workers to live there. Cadbury's also wanted to prevent its headquarters, which was called a "factory in a garden", from being hemmed in by monotonous city suburbs. Cadbury's built an additional 300 houses, making 324 in total, making sure that each one had its own garden. The homes were designed by architect William Alexander Harvey in an 'Arts and Crafts' style, but with modern (for the times) interiors.
1897 — Cadbury's started making milk chocolate by adding milk powder to chocolate. It was coarse by European standards, but then Cadbury's set out to develop a formula that would be better than European milk chocolate by using fresh milk instead. George travelled to Switzerland in 1897 to learn the Swiss techniques.
1898 — Cadbury's reduced the work week from 53 ½ to 48 hours per week.
1899 — Richard died. George brought two of his sons, Edward and George, and Richard's son, William Adlington (1867 — 1957) onto the board of directors, as well as his cousin Richard Cadbury Barrow. In the same year, Cadbury's was registered as a limited company. It now employed 2,600 people to make various chocolate candies.
1900 — George signed over land and houses to the Bournville Village Trust, which was created separately from the Cadbury business.
1901 — George bought a Liberal newspaper, the "Daily News" of London, whose first editor had been Charles Dickens. He would use it to advocate for things such as an old age pension. The paper continued until it was absorbed by the Daily Chronicle in 1930. George would not allow references to horse-racing or betting in the newspaper.
1903 — George purchased the remainder of the Bournbrook Estate. He set aside recreational land for the workers, and provided pensions, medical facilities, housing, education and training.
1905 — Cadbury's launched Cadbury's Dairy Milk. It was supposed to be called "Dairy Maid", but six weeks before starting sales, they changed the name to "Dairy Milk." The Bournville Quaker Meeting house held its first meeting on 3 September 1905.
1906 — George invested a pension fund for his employees with £60,000.
1908 — Bournville Dark Chocolate bars were launched. Cadbury's sued the London Standard Newspaper for libel. [3]
1910 — Cadbury's employed 5,300 people.
1913 — Within eight years, Cadbury's Dairy Milk had become Cadbury's best-selling product.
1914 — Elizabeth Cadbury, George's wife, published and wrote the introduction to a book of letters composed by her mother, Mary Jane Taylor (1831 — 1887.) The book, published by Cornish Bros. in Birmingham, was called "A Dear Memory."
1915 — Cadbury's Milk Tray was launched. The pieces of chocolate were shipped on trays in large boxes, and sold loose to customers at stores.
1916 — Cadbury's started selling Cadbury's Milk Tray in purple boxes for sale to customers as a entire box.
1918 — Worker's Councils, one for men and one for women, are setup. Half the council members are management, the other half are workers elected by secret ballot.
1919 — Cadbury's merged with J.S. Fry and Sons. Cadbury's reduces its work week to 44 hours.
1920 — Cadbury's Flake was introduced.
1921 — The distinctive Cadbury's logo, with the name written in script, was introduced. It was based on how William A. Cadbury signed his name.
1922 — George died on 24 October 1922 at Manor House, Northfield, Birmingham, England, aged 83. His ashes are still kept in an urn in the Friend's Meeting House at Bournville. His son Laurence became Chairman sometime afterwards, certainly by 1935. Cadbury's opened a factory in Claremont, Hobart (in Tasmania, Australia.)
1923 — Cadbury Creme Eggs were launched.
1928 — Cadbury Dairy Milk with Fruit & Nut was launched. "Glass and a half of Milk" slogan was introduced.
1929 — Cadbury Crunchie bar was launched.
1930 — Cadbury's opened a factory in New Zealand.
1932 — Cadbury's opened factories in Montreal, Canada, and in Dublin, Ireland, and launched its Bourn-Vita drink product (discontinued in the UK in 2008.) Bourn-Vita was launched in Australia the same year or shortly after, then in India in 1948.
1933 — Cadbury's saved Wedgewood from bankruptcy by ordering promotional Bourn-Vita cups and saucers. [4]
1934 — George's wife Elizabeth was made Dame Commander of the British Empire.
1938 — Cadbury's Roses are launched. In this year as well, the Bournville location alone employed 10,000 people
1939 — Cadbury's opened a factory in South Africa. Later that year, expansion stopped with the start of the Second World War. It was not really to start again until the 1960s. During the war, parts of the Cadbury's plant were converted to make various things from milling machines for rifle factories to pilot seats. In Australia, Cadbury's became the official supplier for chocolate in troops rations. Instead of Cadbury's distinctive purple, in Australia the packaging was switched to brown paper during the war years there.
1941 — In the UK, chocolate was rationed and available only through ration coupons. The price for a bar of Cadbury's in 1941 was 2 ½d.
1943 — Non-family members are appointed to the Cadbury board for the first time.
1945 — On VE day, a bonfire was built in front of the black and white manor house. The builders of the bonfire erected it deliberately on top of the fire hydrant, so that the fire truck couldn't come along and put it out. In place of honour inside the bonfire was a Hitler dummy, with a swastika on its head and arm. There was dancing in the village green that evening, and the fire was lit at 10:00 pm. The next day, there was an impromptu street party in Maple Road, with tables set up all along down the middle of the road with food on it, and games for the children.
1947 — Cadbury's opened a factory in India.
1957 — William Adlington Cadbury died.
1962 — Cadbury's went public.
1965 — Laurence stepped down as chairman. His son, Adrian Cadbury (15 April 1929 — ) became Chairman of the company, a position he held until 1989.
1967 — Cadbury's Mini-Eggs launched.
1969 — Cadbury's merged with Schweppes.
1971 — Modern version of Cadbury's Creme Eggs launched.
1982 — On 31st July of this year, Laurence's son and Adrian's brother, Jocelyn Benedict Laurence Cadbury, Conservative MP for Northfield, age 36, committed suicide on the main driveway through Davids (the 15-acre estate in Bournville where his parents Laurence and Joyce Cadbury lived, sold off in 1994) by shooting himself in the head with a shotgun. Another of his brothers had previously been killed in a motorcycle crash; his sister was killed in an airplane crash. No reason for his suicide has ever been made widely known.
1993 — Adrian's brother, Dominic Cadbury (12 May 1940 — ), became chairman, a position he held until 2000.
1995 — Cadbury's opened a factory in Beijing (Peking), China.
1996 — Cadbury's started sponsoring the television programme, "Coronation Street."
1999 — Cadbury's Miniature Heroes launched.
2001 — Dream and SnowFlake bars launched.
2006 — By this point, Cadbury's had added factories in Marlbrook, Herefordshire (for milk), Chirk, North Wales (for cocoa bean processing) and Somerdale near Bristol. Bournville in this year covered a total of 1,000 acres (405 hectares), providing room for 7,800 homes and 120 acres (48 hectares) of parkland and garden. Pubs were still non-existent in Bournville, as alcohol was still banned there [5]. Bournville dark chocolate is now manufactured in France
2010 — On 19 January 2010, Cadbury's chairman, Roger Carr, and board, agreed to recommend to shareholders the sale of Cadbury to Kraft for £11.7 billion. ""There is a lot of emotion about [the sale of] Cadbury, but while it has deep British roots and great values, half of its share register is American and half of its management and business is drawn from the transformational Adams acquisition made in America seven years ago. "The company ceased to be a family business when it was floated half a century ago and the Cadbury family has not been involved for about a decade." [6]
___________________________________________________
[1] Around the same time, William Hesketh Lever established in Merseyside, England, the model village of Port Sunlight, named after his leading soap brand.
[2] Another of George's children was Sir Egbert Cadbury, who later became a managing director of Cadbury's; one of Edgert's boys, Peter Egbert Cadbury (born 6 February 1918 — 13 April 2006), was a colourful character who shared offices with Margaret Thatcher when they were both young lawyers, kept a crossbow in his house to shoot burglars, and founded Westward Television in the UK.
[3] Cadbury's sourced its cocoa beans from the west coast of Africa, chiefly the islands of São Tomé and Principé, which were Portuguese territory. Parts of the British Foreign Office had known that Portugal was still capturing people from Angola, and forcing them into slave labour on the cocoa plantations on the islands, but the Foreign Office dithered about how to deal with it without affecting various agreements with Portugal. William Cadbury reputedly first heard of the slavery in 1901. As the rumours became more widespread, Cadbury's tried to see whether they were true or not by going through the Foreign Office, where he was reputedly assured that they were pressuring Portugal to institute reforms, which were underway already. Consequently, Cadbury's inquired no further, not even when Harper's Magazine ran an article in 1905 exposing the ongoing practice of slavery under the Portuguese.
It wasn't just Cadbury that the cocoa beans were being sold to, though. It was everybody: Fry's, Rowntree, even German chocolate makers. What made Cadbury special, though, was politics: George was a Liberal party member and had been a big supporter of Liberal Prime Minister William Gladstone. The Liberal newspaper that Cadbury's owned, the Daily News, had been hammering the Conservative government of the day since 1904 for turning a blind eye to exploitive labour of Chinese workers in South Africa. The Conservative newspapers had spotted their chance to return the favour.
Cadbury found itself ripped to shreds in all the Conservative newspapers, with the London Evening Standard firing the first salvo in an evening edition editorial on 26 September 1908:
…."Such being the case, we can only express our respectful surprise that Mr. Cadbury's voyage of discovery has been deferred so long. One might have supposed that Messrs. Cadbury would themselves have long ago ascertained the condition and circumstances of those labourers on the West Coast of Africa and the islands adjacent who provide them with raw material. That precaution does not seem to have been taken….. And the worst of all this slavery and slave-driving and slave-dealing is brought about by the necessity of providing a sufficient number of hands to grow and pick cocoa on the islands of Principe and Sao Thome [Ed. Portuguese-held islands off the coast of West Africa], the islands which feed the mills and presses of Bournville! Such is the terrible indictment, made, as we have said, by a writer of high character and reputation on the evidence of his own eyesight. There is only one thing more amazing than his statements: and that is the strange tranquillity with which they were received by those virtuous people in England whom they intimately concerned." [London Evening Standard, 26 September 1908. Reprinted in Lowell J. Satre, Chocolate on Trial: Slavery, Politics & the Ethics of Business (Athens, OH: Ohio University Press, 2005), 227-229.]
At the end of 1908, William A. Cadbury finally travelled to São Tomé and Principé to actually see what was happening. Then, while he was south, at the start of 1909, William travelled on to Odumasi, Ghana, found the cocoa there to be safer to buy politically while still of good quality, and switched their purchasing to Ghana in 1910. Cadbury would later gift a Cadbury Hall for education at Kumasi, and a Fellowship for West African Studies at the University of Birmingham.
Nonetheless, Cadbury's sued for libel in 1909. Lawyers in the libel case, such as Lord Carson, scoffed at the notion that Cadbury's could have had any doubt what the situation was in Africa already. They showed the court evidence that Cadbury's had been offered a cocoa plantation for sale on one of the islands, and if they wished, the offer would also include "200 black labourers, for £3,555." On 7 December 1909, a judge in Birmingham awarded Cadbury's a token one farthing in damages.
[4] "Wedgewood was saved from bankruptcy by unexpected but crucial business from Cadbury's. The company noted for its delicate Jasper ware received an order for earthenware beakers and saucers which could be exchanged for labels from Bourn-vita drinking chocolate." [Lynn Knight. Clarice Cliff. London: Bloomsbury. 2005. Page 170.] In 1934, a matching plate, jug and sugar basin were added to the offer. The offer was repeated by Cadbury's in the 1950s, but the tableware then was plastic.
[5] Alcohol came to be served, though, in the Cadbury social club for staff. cf: Robinson, James. Bournville: the town that chocolate built. Manchester: The Guardian. 23 January 2010. P. 33.
[6] Roger Carr, Chairman of Cadbury's. As quoted in: Davey, Jenny. Kraft makes plans to raise £7bn in the bond market. London: The Times. 24 January 2010.
Literature & Lore
"Not long ago the English cocoa firms — Messrs. Cadbury, Messrs. Fry and Messrs. Rowntree — and the firm of Messrs. Stollwerck, of Cologne, sent at their own expense a special commissioner to inquire into all the circumstances of the case. The report of this commission, Mr Burtt, has recently been published by them — a fact which shows that they have not the slightest desire to shirk their responsibilities, but, instead, are the first to recognize them. "If this is not slavery, I know of no word in the English language which correctly characterizes it." This is Mr. Burtt's conclusion. But the cocoa firms in question were not content simply with this report. At present Mr. William Cadbury is in Portuguese West Africa negotiating with the planters and the Government in order to put an end to slavery and to induce the planters to grown their cocoa under conditions of free labor…The leading British cocoa firms, as we have shown, are awake, or are awakening, to their responsibilities. It remains for the British public, and we trust also for the public of the United States, to play their part. They must not let the whole brunt of the battle fall upon the manufacturers. They must let it be know that if needs be they will stand loyally by any and every firm which refuses to use slave-grown cocoa." — Quote from the London Spectator. In Manitoba Morning Free Press. Winnipeg, Manitoba. 26 December 1908. Page 4.
"Outside the city of Birmingham is Bournville [sic], a model village maintained by George Cadbury, the famous English Quaker, the owner of the London Daily News. From that great newspaper all betting news and liquor advertisements have been eliminated. It is the cleanest paper in that respect among all the dailies of Great Britain. In this village of Bournville, the people who work, thousands of them, take their turn to come into a large public hall several mornings in the week, where they have a short praise and prayer service before they go to their work. There is a spirit of goodwill and kindliness and brotherhood in the institution. There is a fine cricket ground for the men; gymnasium for the women; recreation grounds for all. Back of the houses are gardens for fruit and vegetables. It is a sweet, wholesome life of labor, redeemed from the grime of a great city and the drudgery of toil without any of the beauty of life. It is a bit of the Kingdom put into the manual labor of men and it sweetens the lives of thousands of people as they waken in the morning and anticipate the day's work. …" — Sheldon, Charles M. Rev. The Rule of the Kingdom. Fort Wayne, Indiana: The Fort Wayne Sentinel. 18 July 1908. Page 15.
"Damages of One Farthing For Libel: Birmingham, Dec. 7. Damages of one farthing were granted the heirs of the late Richard Cadbury, the millionaire chocolate manufacturer, in their suit for libel against the London Standard. The litigation grew out of charges relative to the use of alleged slave grown cocoa, from the Island of St. Thomas, a possession of Portugal off the west coast of Africa." — The Evening Observer. Dunkirk, New York. Tuesday, 7 December 1909. Page 9.
"London, July 23.—During the last week or two a number of identical articles have appeared in a couple of London papers which are controlled by the great cocoa firm of Cadbury, stating that a dynastic crisis was imminent in Portugal and that the boy King Manuel was about to abdicate in favor of his uncle, the duke of Oporto….I am in a position to state that there isn't a word of truth in these statements…..It is interesting to note that both the papers which printed these veiled attacks on the Portuguese monarchy are controlled by a business firm which had a good deal of trouble not long ago with the Portuguese government, over its use of cocoa grown by slaves in Portuguese territory. It was compelled by public opinion to cease the use of this raw material and then tried to throw all the blame on the Portuguese government, which asserted that it was doing all it could to put an end to the system of servile labor, but was hampered by capitalists in close touch with the English cocoa firm." — [Author unattributed]. Atlanta, Georgia: The Constitution. Sunday, 24 July 1910. Page 6.
"There is probably no man who is more passionately devoted to cycling that Mr. George Cadbury, the head of the famous Bournville cocoa firm of that name. He himself cycles every day from his home to the works, a distance of a mile and a half, and back again in the evening. Every Sunday morning he rises at six o'clock and cycles into Birmingham, five miles away, to conduct an eight o'clock Sunday morning class for men and youths. Nothing is allowed to interfere with attendance at this class for men and youths, and even in the depth of winter Mr. Cadbury is punctually at his post. Mr. Cadbury is proud of his class, and every member is proud of Mr. Cadbury." — Column: Personal Gossip that Amuses, Readers of the London Press. Oakland, California. The Oakland Tribune. Wednesday, 16 February 1910. Evening edition. Page 6.
Every Christmas, Cadbury's makes a special order of chocolate bars for the Queen from a special recipe using a specially reserved machine. The chocolate is wrapped in gold foil covered with a red paper wrap, and labelled "Superior Culinary Plain Chocolate". It is a dark chocolate containing a high proportion of cocoa solids, but beyond that, Cadbury will not discuss the recipe.
Language Notes
"Bournville" is frequently misspelled as "Bourneville", with an "e" in the middle.
Sources
Beattie, Jason. No More Chips off the Old Block; the Absence of a Cadbury Doesn't Mean the Firm Is Flakey. Birmingham, England: The Birmingham Post. 17 February 17, 2000.
Boal, Catherine. Cadbury at war over the colour purple. Montpellier, France: Decision News Media. Food and Drink Europe Magazine. 25 July 2006.
Casciani, Dominic. Is this the nicest place to live in Britain? BBC News. 9 July 2003. Retrieved May 2006 from http://news.bbc.co.uk/go/pr/fr/-/1/hi/uk/3056286.stm.
English, Rebecca. Unwrapped: The Queen's secret chocolate, delivered in time for Christmas. London: Daily Mail. 28 December 2009.
Kennedy, Maev. One's chocolate is ready: Cadbury dispatches Queen's own superior brand. Manchester: The Guardian. 23 December 2009.
King, Ian. Cadbury surrenders to foreign takeover. London: The Times. 19 January 2010.
O'Brien, Dan. YSU Prof's Book Examines Chocolate's Distasteful Past. Youngstown, Ohio: The Business Journal. 19 September 2005.
Salter, Margaret. A letter to my Daddy on VE Day. BBC News. 7 May 2005. Retrieved August 2006 from http://news.bbc.co.uk/go/pr/fr/-/1/hi/uk/4509525.stm.
United Press International. Candy heir found shot to death. Chicago, Illinois: The Daily Herald. 2 August 1982. Classified section, page G.
Daily Telegraph. Peter Cadbury. London: Daily Telegraph. 18 April 2006.