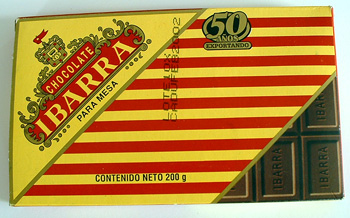 Mexican Chocolate
© Denzil Green
Mexican Chocolate looks a bit like a chocolate powder that has been pressed into blocks. You break pieces off the block to use, and chop them up finely, or grate them.
Three of the larger brands made are Abuelita, Ibarra, Mayordomo, and Nestlé. All brands come sweetened with a bit of sugar, and flavoured with vanilla and cinnamon. Some brands also include almonds, though a few brands have dropped the almonds recently.
It is used in making hot drinks and in making moles.
Cooking Tips
Grate with a grater.
To make a Mexican hot chocolate drink, grate the chocolate and bring to a simmer with milk. When the chocolate is dissolved, froth briefly in the blender.
To froth it, Mexicans traditionally used a wooden whisk called a "molinillo". Nowadays, Mexicans use blenders.
Some people object to using a blender to froth it, as they say the blender jug would cool down the chocolate too much. If that is your concern you could heat the blender jug first with hot water, or use a whisk instead and whisk the hot chocolate right in the saucepan.
Substitutes
Semi-sweet baking chocolate with cinnamon