Oktoberfest
© Markburger83 / wikimedia / 2011 / CC BY-SA 3.0
Oktoberfest — a time for sausages, tubas, and hairy guys in leather shorts.
Though popularly seen as a German festival, it's really a Bavarian festival, as evidenced by the traditional colours of Bavaria, blue and white, everywhere at the festival. The centre of celebrations is in Munich, Bavaria, Germany.
During the festival over six million people visit the Munich (as of 2016.) Not everyone in Munich goes to it; some locals naturally just don't like all the crowds.
Festivities end each night at 11:30 pm, though now a few small tents are open till 1 in the morning for a younger crowd.
Oktoberfest, despite its name, actually starts in September, running over a 16 day period from the third week of September to the first week of October. It starts on a Saturday, and ends on the first Sunday of October. On the first day, things kick off at 11:00 am with a 4 mile parade, and then at noon the mayor of Muich taps the first keg. On the second day, there's a traditional clothing parade.
Main entrance to Oktoberfest
© Rita Eisenkolb / wikimedia / 2012 / CC BY-SA 3.0
Food served includes:
bratwurst
white sausage, — a Münchner Weisse sausage
pretzels with mild mustard;
roasted fowl (goose, duck or chicken);
white beer (made from wheat);
Wiesenbier (meadow beer.)
gingerbread Hearts (Lebkuchenherzen)
Oktoberfest Gingerbread Hearts
© Juliane Lutz / pixabay.com / 2005 / CC0 1.0
Pretzels
© Iris / pixabay.com / 2012 / CC0 1.0
There are six breweries Munich (as of 2001) that all get involved in sponsoring parts of Oktoberfest: Augustiner, Hacker-Pschorr, Hofbräuhaus, Löwenbräu, Paulaner and Spaten.
Hacker-Pschorr, one of the traditional beers allowed to be served at Oktoberfest.
© jacqueline macou / pixabay.com / 2014 / CC0 1.0
These are the tents that are open each year (as of 2006):
Armbrustschutzen (holds cross-bow events and sells roasted pork knuckles)
Augustiner-Brau: Holds 10,500 people. Family-oriented.
Braurosl: holds 8,500 people. Sells Hacker-Pschorr beer. Known for the yodelling.
Fischer-Vroni: Holds 3,500. Sells fish dishes.
Hacker Festzelt (holds 9,000 people, sells Hacker-Pschorr beer, popular with Americans)
Hippodrom (one of the smallest but wildest, it stays open late. Opened in 1902; originally had a ring inside around which vistors could ride on horses. Serves Spaten Brau beer.)
Hofbrauhaus (10,000 capacity, holds beer mug lift competitions)
Kafer's Wiesnschanke (holds 2,000 people; sells Paulaner beer
Lowenbrau (holds 8,000 people; sponsored by Lowenbrau brewery);
Ochsenbratere: Holds 7,000 people. Sells beef.
Schottenhamel (holds 10,000; where the mayor opens the first keg)
Schutzen-Festhalle (holds 4,200 people; considered one of the better tents for food);
Weinzelt (holds 1,300 people; sells both wine and Paulaner beer);
Winzerer Fahnd'l (holds 8,200 people)
Most tourists go to the Hofbrau tent — it's the only one that doesn't require you to be seated when ordering a beer; you can walk around with it. It is usually full of Australians and New Zealanders.
Hofbrau tent
© Ralf Kronenberger / pixabay.com / 2013 / CC0 1.0
Oktoberfest Fair Grounds
© Stefan Weigel / wikimedia / 2006 / CC BY-SA 2.5
Oktoberfest-type events are now also held in various cities across North America.
The oldest one in North America may be that which started in Milwaukee in 1846, but it's called "German Fest" and is held in July. Kitchener-Waterloo, Ontario, Canada claims to be the biggest real Oktoberfest outside Munich.
History Notes
Oktoberfest Beer Barrels
© Rita Eisenkolb / pixabay.com / 2013 / CC0 1.0
Oktoberfest started in 1810 as wedding celebrations for Bavarian prince Ludwig and his wife, Princess Therese of Saxony-Hildburghausen. It was a celebration held 12 October 1810 by his father, Max Joseph, who invited the commoners to join in. Five days after the wedding, there were follow-up horse races to celebrate. The horse races were such a success that they were held the next year, and the next, and then kept on going. Every year, more people attended, and more people came to sell them food and drink.
1800 – the practice of starting it earlier in September began, as the weather in October wasn't often reliable enough;
1811 – agricultural fair added;
1818 – performers, pub owners started selling beer from stands; events are now held at Theresienwiese (meaning "Therese's meadow"), formerly the horseracing grounds
1896 – large beer tents and halls started appearing, sponsored by breweries;
1838 – horseraces stopped;
At least 24 years were missed at various times. For instance, it was not held in 1813 owing to the Napoleonic wars, and during the Second World War, some years were missed, with festivities not starting again until 1946.
Oktoberfest parade
© Hans Lohrmann / pixabay.com / 2012 / CC0 1.0
Language Notes
München means "monks". The area had a number of monasteries, which started the beer brewing tradition. Locals just refer to the event as "Wiesn", meaning "meadow".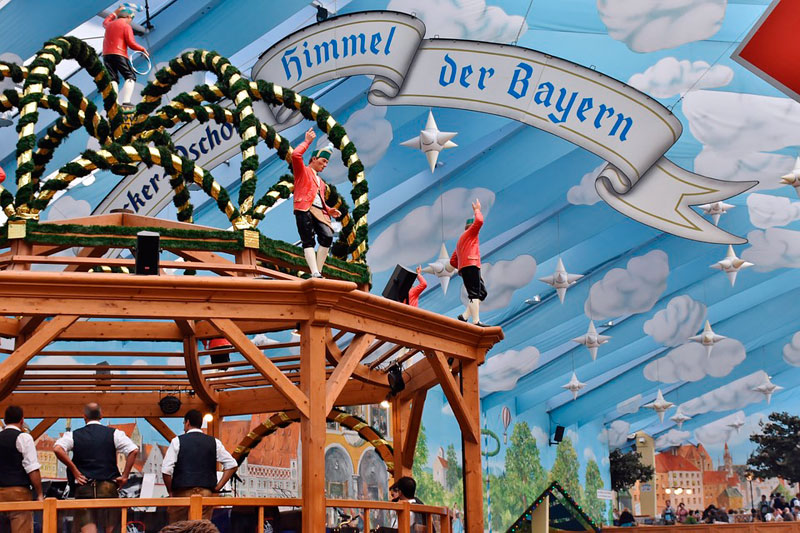 The sky over Bavaria
© Rita Eisenkolb / pixabay.com / 2015 / CC0 1.0