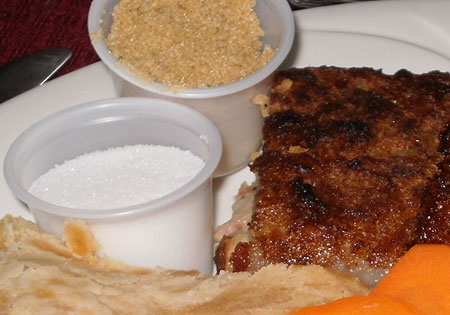 Pâté Râpé, accompanied by brown and white sugar
© Diane Langlois

Pâté Râpé (aka "Rappie Pie") is an Acadian baked potato dish made in Nova Scotia and Prince Edward Island. It is sort of like a baked hash.
It is made from diced fatty pork, chopped onion, potatoes, egg, salt and pepper. Some of the potato is mashed, the rest is grated.
The mixture is baked for a few hours. As it bakes, the fat from the fatty pork renders, causing the top to become brown and crispy.
Pâté Râpé can be served with brown or white sugar, butter, ketchup or molasses as condiments.
It will act as the potato on a dinner plate, accompanied by other vegetable and a meat or fish dish.