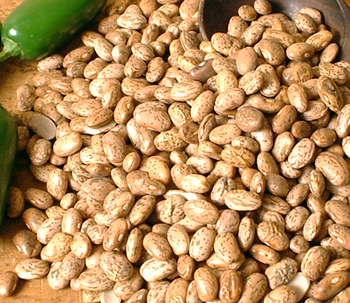 Pinto Beans
© Denzil Green
Pinto beans are beige-coloured with streaks of pinkish-brown. When cooked, the streaks disappear and the beans become pinkish-brown.
The beans are about ½ inch (1 cm) long. They are related to kidney beans.
Cooking Tips
Soaked pinto beans will require about 2 hours of simmering time.
Unsoaked pinto beans will require about 2 ½ hours of simmering time. When cooking from unsoaked, use at least 1 part pinto beans to 3 parts water.
As mentioned elsewhere, adding vinegar or lemon juice to beans after they are cooked picks up their flavour. For pinto beans, try lime juice if you are aiming for a Mexican touch (and if you have lime juice on hand).
Pinto beans are great for refried beans, dips, and for chili.
Substitutes
White or Red Kidney Beans
Amount

Calories

235

Fat

.9 g

Protein

14 g

Folate

295 mcg

Iron

4.5 mg

Potassium

800 mg
Equivalents
½ pound (225g) of dried beans = 1 cup dried beans = 3 cups of cooked beans = 500g / approx 1 pound of cooked beans
Storage Hints
Store dried pinto beans in a sealed container in a cool area for up to 1 year. Store cooked ones in the fridge, and use them up within a few days, or freeze.
History Notes
Probably originated in Central Mexico.
Literature & Lore
The name comes from the Spanish word, "painted".