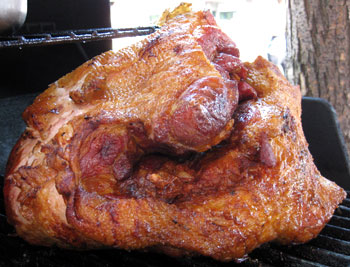 Pork Shoulder Roast
© Roy Schuurhuis
A Pork Shoulder Roast is an inexpensive cut of pork to buy, as it is relatively fatty. But, the fat makes for extremely tender, sweet and juicy roast meat. Even if you're not happy about the amount of fat on it, remember that it will render and accumulate in the bottom of the pan, and you just drain it off. And don't just slash off the rind on a Pork Shoulder Roast: make it into crackle.
The meat for Pork Shoulder Roast comes from the front shoulder of the hog.
The cut will be squarish, though not as tall as it is wide. It will contain a blade bone, plus meat from several muscles, and will probably have a cap of fat, with rind on that. If it does have this, cook it fat side up.
If the Pork Shoulder Roast is sold boneless, it's the blade bone that's removed. Boneless is usually tied up with string, or packaged in netting.
Cooking Tips
Rub any seasoning you wish into the meat. Roast fat-side up uncovered, and don't add any water to the pan. Allow about 25 minutes per pound. Cook at 325 F (160 C) till internal temperature reaches 170 F (75). [1]
If you are making crackle out of the rind, don't baste it, and cook at 350 F instead.
Remove from oven and let rest for 15 minutes.
____________________________________________
[1] For slicing, cook to 180 F (80 C.) For pulled pork cook till 190 F (85 C.)
Literature & Lore
In Boston, butchers cut a pork shoulder in a certain way, and packed them into barrels known as "butts" for storage. This cut became known as "Boston butt". Sometimes you'll see it referred to just as "butt roast", which can be confusing, as the cut comes from the front of a hog, and not from the back end as you would guess "butt" meant. Butt here just means "barrel".