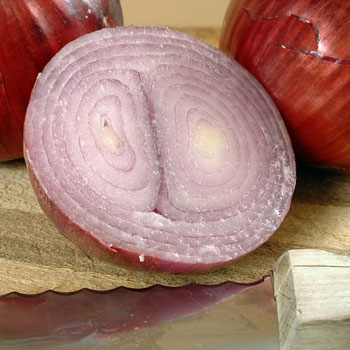 Red Onions
© Denzil Green
Red Onions are onions with reddish-purplish skin, and similarly-coloured lines layer the white rings inside the onion.
In general, Red Onions can be a bit sweeter than regular white or yellow onions, but you can't count on this: though they are predisposed to be sweeter, how sharp they will be depends to some extent how much sulphur was in the growing soil or in the fertilizer used. This makes it a little tricky to deal with a recipe that calls for a sweet red onion: what are you supposed to do, stand there at the vegetable counter, surreptitiously chomping into them?
Red Onions are often more purplish than red.
There are now many, many varieties of Red Onions grown, but you have to remember not all are necessarily developed with the consumer's palate in mind: producers are after yield, resistance to rot and splitting, and veg-counter colour appeal. Some are perfectly round, others more flattened on top. Some varieties will tend to be sweeter than others, but given that grocery stores just fling them all in bins labelled "Red Onions", knowing the variety names and characteristics doesn't help you a great deal.
Many varieties of red onions tend to be largish onions.
Dark Red Brunswick Onions (aka Brunswick Red Onions)
This is a dark red onion with a mild taste with just a touch of pungency. It is medium to large sized, with a flattened top.
It stores well. It was first catalogued in 1870.
Flamenco Red Onions
This is a large, globe-shaped onion with a thin neck and very red, glossy skin and very thick rings inside.
From seed to harvest, it requires 110 to 115 days to grow. Can be stored 4 to 6 months.
Has quite a sharp taste.
Red Beauty Onions
This is a smaller-sized onion that is quite round. It is ready to harvest early, requiring only about 100 days from seed to harvest.
Mars Red Onions
This is a large-necked Red Onion with more of a brownish colour to it. It was developed by a R. Engle, released to market in 1991.
It is a bit harder to grow, as it can split while maturing.
It did not originate on Mars.
Red Wing Onions
This is a smaller-sized Red Onion with a pale centre. It is very mild. Even those who don't like red onions might like the Red Wing, though red onion lovers might find it insipid. It takes about 110 days to mature from seed. It is one of the better red onions for storage.
Red Burgermaster Onions
This is a Red Onion that is so large that a slice will cover a hamburger bun. It tends to be quite sweet.
This is a hybrid onion, developed by a R. Engle, released to market in 1994. It takes 100 days from seed. As it is very new, the seed is still quite pricey.
Stores well.
Red Creole Onions
This Red Onion is not as sweet as others, it has a bit more of a bite to it. The skin is a paler red than others, and is flattened on top.
It takes 110 days from seed to harvest.
Red Creole Red Onions were developed by the Dessert Seed Company in California, released to market in 1962.
Red Italian Onions (Torpedo Red Onions)
This is a small, long, spindle-shaped Red Onion. It has a mild taste, though the taste is more sharp than sweet.
Inside it is a pale red. These Red Onions don't store well.
100 days from seed to harvest.
Red Baron Onions
This is a medium to large-sized Red Onion with very dark red skin.
Inside, each ring inside the onion has a red rim, though the core may be white. The taste is quite sharp.
Red Baron Onions mature earlier and store somewhat better than most other Red Onions.
Cooking Tips
Red Onions add colour to dishes. Use for salads, garnishes, grilling or carmelizing.
When cooked, the red in them will fade, causing the blue colour pigments in them to become more predominant.
Equivalents
1 small red onion is 8 cm / 3 inches wide and weighs about 300 g / 10 oz.
1 cup, finely diced = 5 oz / 150g
Literature & Lore
"Red onions are especially divine. I hold a slice up to the sunlight pouring in through the kitchen window, and it glows like a fine piece of antique glass. Cool watery-white with layers delicately edged with imperial purple…strong, humble, peaceful…with that fiery nub of spring green in the center…"
— Mary Hayes Grieco (American New Age writer, author of The Kitchen Mystic: Spiritual Lessons on Everyday Life)