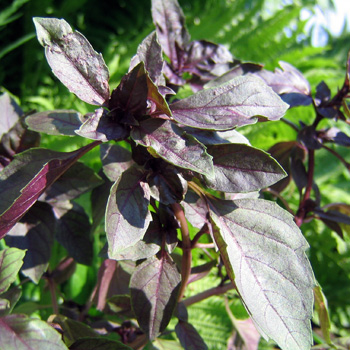 Red Rubin Basil
© Denzil Green
Red Rubin Basil is an annual herb that can grow up to 3 feet (1 metre) tall.
In spite of its name, it is actually purple, and its stems are an even darker purple.
It leaves can grow up to 3 inches (7.5 cm) long. It blossoms with small pink flowers.
Red Rubin Basil tastes nearly the same as any green basil, though a bit more pungent than Genova Basil. Sometimes, it even has a sharpness almost like cloves. The taste might be a bit too strong for some people in pesto.
Red Rubin Basil is best used fresh. When cooked, the purple colour disappears and it turns green.
The more sun the Red Rubin Basil gets, the less chance there is of green coming through on the leaves.
History Notes
Red Rubin is a strain of standard purple basil (specifically, Dark Opal) developed in Denmark prior to 1992 that has larger leaves, deeper purple and less chance of green areas popping out on it.