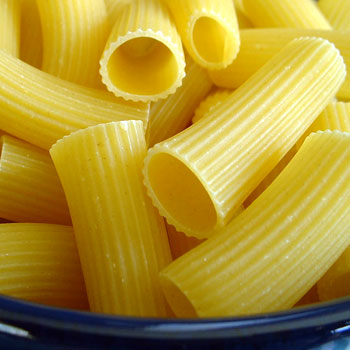 Rigatoni
© Denzil Green
Rigatoni are big tubes of pasta that are ridged on the outside, and smooth inside.
The ridges help the pasta get a grip on the chunky sauces, and the large insides allow a good amount of sauce to penetrate inside the tubes.
Being so big, Rigatoni are good in baked dishes or with chunky sauces, which typically are tomato based, and have meat and / or vegetables in them. Typical vegetables might include mushrooms or broccoli. Typical meats used might include veal, pork, sausage, fowl, etc.
The size and thickness of the tubes will vary by manufacturer. The size of Rigatoni made by De Cecco is 1.771 inches (45 mm) long, between between 0.043″ (1.09 mm) and 0.046″ (1.17 mm) thick, with a diameter of 0.629″ (16 mm.)
Normally, Rigatoni is made from durum wheat semolina, but nowadays manufacturers offer it made from a variety of grains including whole wheat, kamut, buckwheat, einkorn, etc.
Cooking Tips
Rigatoni should be cooked until just al dente, because the tube structure will collapse if it is cooked until limp, blocking sauce from getting inside.
Cooking times for durum wheat Rigatoni will vary by actual size of the Rigatoni, but generally the range is from 10 to 14 minutes. The package will usually give you exact times for the size and thickness you have bought. Cooking times for Rigatoni made from other grains may vary but the manufacturer will almost certainly tell you on the package.
Fill a big pot with a very generous amount of salted water, and heat to a rolling boil. The salt will penetrate the pasta, helping to flavour it. Italians know when you've cheated and left the salt out.
Meanwhile, get ready a colander or other straining device by the sink.
Add the amount of pasta you want to cook to the boiling water. Stir, and start your cooking time from when the water starts boiling again. When it does, give the pasta one more stir, and that should be all you need to stop the Rigatoni from sticking together.
Start testing for al dente 2 to 3 minutes before the suggested cook time on the package; you can always boil more but you can't unboil. For tips on detecting al dente, see the separate CooksInfo.com page on al dente.
Around this time, you may wish out to do as the Italians do, and scoop out a small amount of the pasta water to stir into the sauce.
As soon as the Rigatoni hits al dente, you need to get it out of the water immediately, or it will keep cooking. Turn off the stove burner, and carefully transfer the pot to the sink and empty it, minding the steam and hot water splashing, into the colander or other straining device that you prepared earlier.
Now, proceed with using the cooked Rigatoni for your recipe.
Substitutes
Penne Rigate
Nutrition
Nutritional figures vary by manufacturer.
Amount

Calories

210

Fat

1 g

Carbohydrate

41 g

Protein

7 g
Storage Hints
Store in a cool, dry place for up to several years. If the package has been opened, store in a sealed container.
History Notes
Rigatoni is traditionally associated with southern and central Italy. Some people feel that its actual origins were in the Campania region around Rome, in central Italy.
Language Notes
The word "Rigatoni" comes from the Italian word "rigare", meaning to score lines or mark lines into something. The past participle of this is "rigato", which means "lined", or "ridged."
To "rigato" is added the suffix "one" (o-nay), which means big, so "rigatone" is a big ridged thing. "Rigatoni" is the plural of "rigatone."