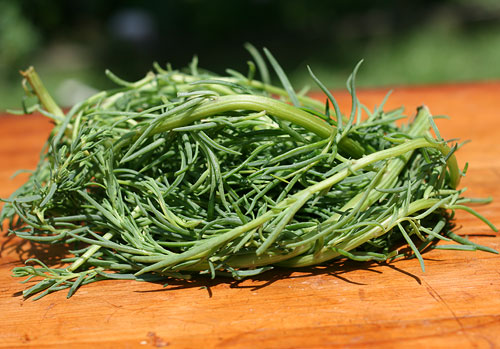 Samphire
© Denzil Green
Samphire is a bright green marsh plant that grows on rocks by the sea. It's a perennial that grows in clumps and bunches up to 60 cm (2 feet) tall.
Some people think of it as a pot-herb; some think of it as a vegetable.
It does have leaves, but they are more like bright green, fleshy stems. Harvest them young, before the plant flowers.
It grows on coasts in Europe, including Southern Europe, but rarely as far as up into Scotland. It is often found in very muddy ground by the seashore, where the tide washes up.
It also grows on the east coast of Canada in areas such as Nova Scotia and New Brunswick. Acadians in this area consider it a local delicacy and call it "tétines de souris" ("mouse nipples".)
Samphire is not the same as rock samphire in the Mediterranean, which is a shrub that grows on cliffs.
Cooking Tips
Cooked Samphire
© Michelle Mattern
Samphire can be eaten fresh, pickled to preserve it, or cooked and served as you would asparagus.
To cook it, wash well to get rid of any sand. Bring water to the boil. Don't add any salt to water – it already has a salty flavour. Simmer until tender, about 10 minutes. Serve with melted butter, or with ground pepper and vinegar.
Literature & Lore
"Half-way down hangs one that gathers samphire; dreadful trade!" — King Lear, Shakespeare.
Language Notes
Though one of the other English name's is "Sea Fennel", as is the German name "Meerfenchel", Samphire is not at all related to fennel. People in North Norfolk pronounce samphire as "samfer."
One of its synonyms, Glasswort, comes from its being used in the past in making soda glass.
Also called samphire greens, beach asparagus, sea asparagus, crow's foot greens, sea beans, sea pickle, salicornes.