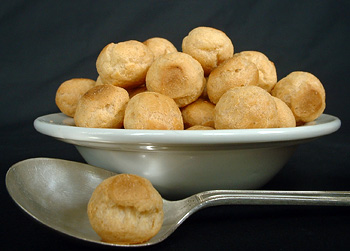 Soup Nuts
© Denzil Green
Soup Nuts are a garnish for soup in Jewish cooking. They float on top of soup until they absorb the soup broth.
They have nothing to do with nuts; they can be described as crunchy dumplings or small profiteroles or éclairs.
They are small round balls, about an inch (2 ½ cm) wide, light golden brown colour, and, ideally, light and fluffy.
Soup Nuts are used particularly around Passover ("pesach".)
Ingredients used in making Soup Nuts may vary, but can include eggs, water, vegetable shortening or oil, and matzo meal used as flour. Some recipes sneak a bit of sugar and / or a small amount of potato starch in. Seasoning is usually just salt and pepper, but herbs can be added, or garlic powder.
Some recipes have you heat mix oil and water, bring to a simmer, beat in flour and cook till through, then beat in egg, rather like making choux pastry.
The dough is mixed, then formed into small balls, then baked or fried in oil. Some have you drop the formed dough balls into simmering water for 30 seconds first, then drain and bake.
Soup Nuts can be bought ready-made in boxes at supermarkets, or you can get package mixes.
Cooking Tips
Soup Nuts can be ground up to use as crumbs for a coating.
Equivalents
¾ oz = 1 cup whole = ⅓ cup ground
Language Notes
Mandlen is actually a Yiddish word for "almond."
Even though, being round balls, they don't look like anything like crackers, they are often referred to as "Passover crackers." But then, they don't look anything like nuts, either.