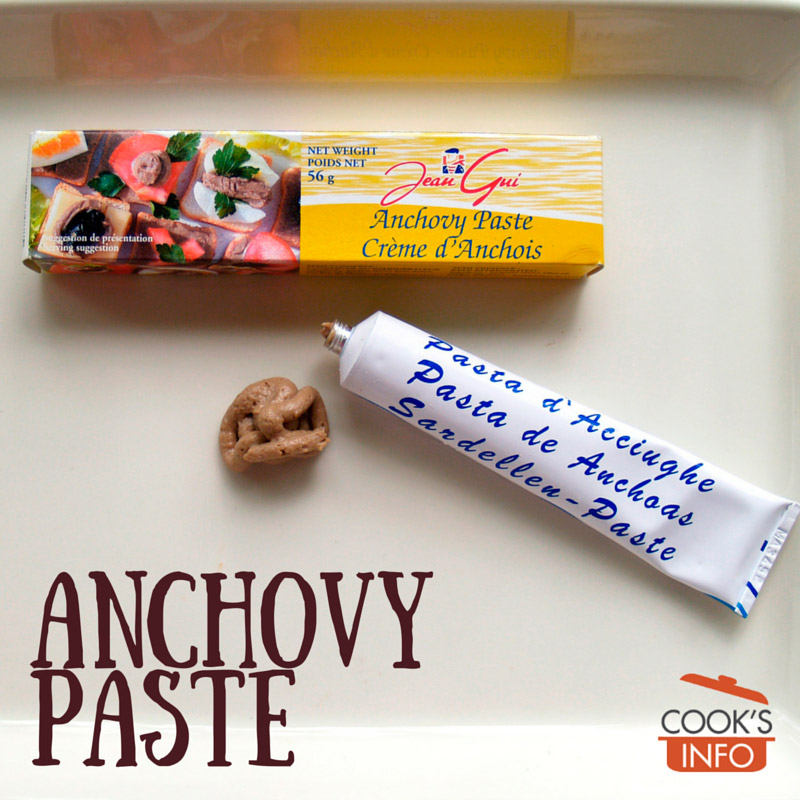 Anchovy Paste
© Denzil Green

Anchovy paste is made of cured anchovy filets that are puréed. It will contain nothing other than anchovies, the salt that was used in the curing, and some olive oil to make the paste smoother. The paste usually comes in tubes.

It is is only used in small quantities at a time as a flavouring agent to add a salty, savoury note to the taste of a dish.
Anchovy Spread, Anchoyade
There is also anchovy spread. This is anchovy paste to which some flavourings have been added. Recipes for making your own have you add pine nuts, lemon juice, basil etc. The spread is usually confusingly called anchovy paste in English.
In France they make the distinction and call it anchoïade, or anchoyade in Provence. The Provençal version is usually made of just anchovies, garlic and olive oil.
To know if you are looking at spread rather than paste, look to see if there's anything more than anchovy, salt and olive oil in it. The spread usually comes in jars, while the paste usually comes in tubes. That, however, is not a hard and fast rule.
Substitutes
Gentlemen's Relish, ground capers
Nutrition
Nutritional information will vary by manufacturer; check packaging labels.
Typically, it is quite high in sodium, 700 to 1,000 mg per tablespoon, but then, you only use it in very small quantities at a time.
25 to 45 calories per tablespoon.
Equivalents
2 oz of Anchovy Paste = 4 tablespoons = ¼ cup
½ teaspoon Anchovy Paste = 1 anchovy fillet
2 tablespoons Anchovy Paste = 2 oz anchovy filets, drained (12 pieces)
Storage Hints
Refrigerate tubes and jars after opening. Some tubes are sold in the chiller section at stores; these should also be refrigerated when you get it home.