What Beef Rump is depends on where you are.
In North America, this is the upper area of the Round (see main entry for "Beef Round"), from which Rump Roasts and Rump Steaks are cut.
In Britain, Australia and New Zealand, the region is a primal cut all to itself, which takes in the areas North American butchers call "Sirloin", "Tenderloin", "Top Sirloin", and "Bottom Sirloin", with none of the round at all.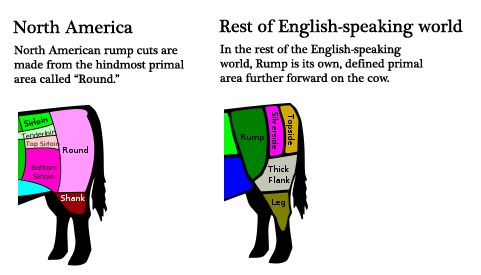 North American vs British Rump Cuts
Cooking Tips
Both Rump Roasts and Rump Steaks, in the North American definition, require moist heat cooking.
In the "rest of the English speaking-world" definition, they can be cooked as you would more tender meat.