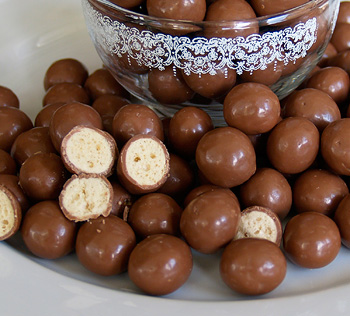 Maltesers
© Denzil Green
Maltesers are a candy.
They are small balls of crunchy malt honeycomb covered with milk chocolate. They are crunchy when you first bite into them, then they dissolve in your mouth.
They are popular in Australia, Canada, Ireland and in the UK.
They are sold in many different types of packaging.
Nutrition
A 2008 advertising campaign in Britain, inviting consumers to believe that Maltesers are a low-calorie snack, was disallowed by the Advertising Standards Agency. Under EU regulations, a food can only be promoted as low calories if it contains 40 or fewer calories per 100g.
Per 100g: 505 calories, 7.9g protein, 25g fat, 63g carbohydrate, 53g sugar and 90mg sodium.
UK made Maltesers are suitable for vegetarians — the whey powder in them is a by-product of vegetarian rennet.
History Notes
Maltesers were created in 1936 by Forrest Mars, Sr, who first called them "Energy Balls."
Sometime before May 2009, the popular 146g small box size of Maltesers was reduced in weight to 120g. [1]
Language Notes
The product name is a combination of "malt" and "teasers."
Sources
[1] Maltesers – watch out for new (smaller) pouches thread. May 2009. Retrieved December 2010 from http://forums.moneysavingexpert.com/showthread.php?t=1670435&page=2
Simpson, Aislinn. Maltesers 'less than 11 calories' advert was misleading. London: Daily Telegraph. 14 October 2008.