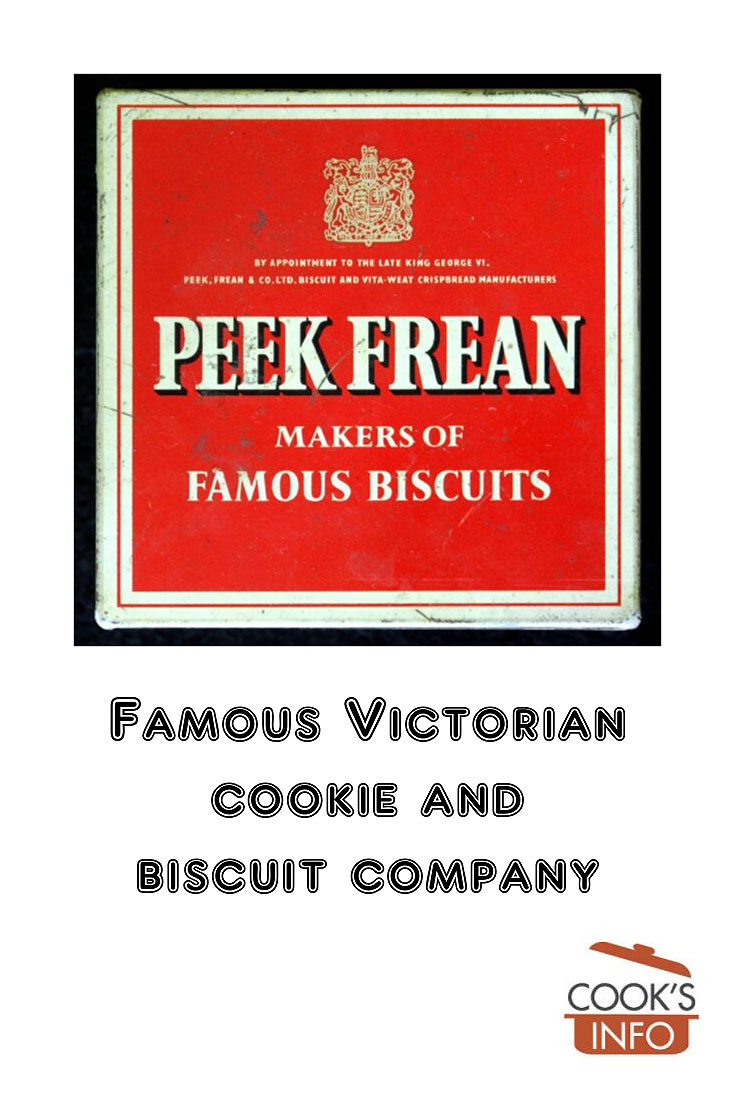 Peek Freans is a brand of cookies and biscuits that were originally English but became a familiar sight on store shelves around the world.
The company has gone through several slight name changes over the decades. It started as Peek, Frean and Co. Ltd in 1857. By the early 1900s they were trading as Peak Frean. By the 1970s, they had changed the name to Peek Freans (possibly because so many people were referring to it as Peek Frean's anyway.)
World presence today
In the UK, Europe and the United States, no products are made or sold under the brand name of Peek Freans as of 2019.
In Pakistan, as of 2019, the brand is owned by the 'English Biscuit Manufacturers' company.
In the Caribbean and Canada, as of 2019, the brand name is owned by Mondelēz International, which makes the cookies in those areas in Toronto. You can go in and buy broken biscuits / cookies.
Varieties made for the North American and Caribbean markets include:
Assorted Crème
Assorted Tea
Digestive
Family Digestive
Family Shortcake
Fruit Crème
Nice
Shortcake
Pecan Passion
Ginger Crisp
Peek Freans also offers a "Lifestyle Selections" category of cookies, with various options such as sugar free, high fibre, flax, green tea, etc.
History Notes
James Peek was born 8 June 1800 in Dodbrook Devon, to a relatively well-off family.
In 1821, Richard, William and James Peek set up a tea company, called "Peek Brothers and Co", in London. The company was very successful; in 1865 alone, they imported over five million pounds of tea.
In 1824, James married Elizabeth Masters (1799 – 1867) at St Stephens on Coleman Street, London. The couple would have 8 children.
By 1857, two of his sons Charles (age 17, 1840 – 1860) and Edward (age 16, 1841 – 1898) did not want to get involved in the family tea business. James wanted, however, to get them started in a trade of some sort, so he thought of biscuits instead for them.
By this time, one of his nieces, Hannah Peek had married George Hender Frean back in Devon. James wrote to George, saying that he was setting up a biscuit business for his sons, but that he needed George to manage it, as he still had commitments with the tea business. George agreed. The business was set up with James and George as co-partners, with the two boys working under George as they were still quite young. The factory was established at Dockhead, London in 1857.
The sons were apparently unhappy with the arrangement. Edward joined the church; Charles went back to Devon and died there shortly after in 1860, aged 20.
James and George pressed on with the business, as trade was promising. Wanting the help that he had hoped for from Jame's sons, Frean wrote to a John Carr, of the Scottish biscuit making family. Carr had apprenticed in the family business up in Scotland, but didn't like it. Still, Carr accepted the offer in 1860 and came down from Scotland to join the company in that year.
Timeline of Peek Freans Company
1857 – Company founded in Dockhead, London
1860 – John Carr joins the firm
1861 – First exports (to Australia)
1866 – James Peek stepped down from Peek, Frean, aged 66, installing his son-in-law Thomas Stone in his place
1866 – The company built and moved to a new factory at 100 Clements Road in Bermondsey, London. The land there before had been market gardens, 10 acres. One of their plants there is now the Tower Bridge Business Complex. They kept the old factory at Dockhead still going.
1868 – Cricket club for the employees established
1870 – Got order for 460 tons of ship biscuits from the French government during the Franco-Prussian war, with the order being processed through the Rothschildes. They also supplied flour to Paris in 1871 and 1872.
1870 – The Bermondsey plant, taking a cue perhaps from the Cadburys, was becoming a mini-village, with medical care and dentists for the workers, as well as its own fire brigade and post office. Working hours were 6am till 5:30 Monday to Friday and 6 till 2pm on Saturday, standard for those days in factories.
1870s – Export to Canada starts
1872 – The management kept everyone on the same salary but decreased the work hours required for that
1873 – The Dockhead factory was destroyed by fire on 23 April 1873. The fire, which started around 2 am in the morning, did not touch the administrative offices, but was so wide-ranging that the Prince of Wales come out to watch the fire fighting, and 5 barges in the water were burnt down to their water lines. The fire was so intense that ingredients exploded out of factory windows, and baked hard on the surface on the streets. Production and all workers were transferred to the new factory in Bermondsey, with production there being ramped up to compensate.
1879 – James Peek died on 23 January 1879, aged 79, at Watcombe, Torquay
1887 – Frean retired from the firm
1901 – The firm becomes a limited company. Francis Hedley Peek, James's great-nephew, becomes the first chairman
1904 – Francis Hedley Peek dies, ending all family involvement of Peeks or Freans in the company. Carr family involvement would continue for several more generations.
1904 – The company sponsored a festival at the Crystal Palace in London
1907 – The company started a musical society for the employees
1908 – The company started a dramatic society for the employees
After 1918, they introduced a week's paid holiday for everyone, and a pension fund, and tea breaks
1924 – First international factory: Dum Dum, Calcutta, India, by acquiring The Britannia Biscuit Company Limited in India
1935 – Factory on Frederick Street in Ashfield, New South Wales, Australia (sold in 1975 to Arnott's), set up by Richard Carr in a purpose-built art-deco building
1949 – Factory opened in Toronto, Canada on O'Connor Street, set up by Rupert Carr. They named the adjoining side street "Bermondsey Road."
1987 – Peek Freans was bought out by the American firm, RJR Nabisco
1988 – Nabisco was bought out by Kohlberg Kravis Roberts in a leveraged buy-out. To pay down all the debt accrued in the buy-out of Nabisco, Kohlberg Kravis Roberts began asset sales, selling Peek Freans UK operations to Danone. North American operations were sold to Kraft.
1989 – Danone ceased Peek Freans British operations and closed the London factory, saying the overheads were too high. The Bermondsey factory was closed on 26 May 1989.
In July 2004, United Biscuits acquired the dormant Peek Frean name as part of a broader purchase from Danone which included Jacob's cream crackers, and Twiglets. [1]Danone sells its biscuits to United. 24 July 2004. Accessed August 2019 at

https://web.archive.org/web/20071227175451/http://findarticles.com/p/articles/mi_qn4158/is_20040724/ai_n12801313

2017 – the trademark for Peek Frean was brought back into the family when it was acquired by Harry Davies, the great-great-great-nephew of James Peek. [2]Peek Frean Biscuits could be back on UK shelves next year. Southwark News. 7 December 2017. Accessed August 2019 at

https://www.southwarknews.co.uk/news/peek-frean-biscuits-back-uk-shelves-next-year/
Timeline of Peek Freans Cookies
1861 — Garibaldi biscuit (see separate entry)
1865 – Pearl Biscuit, a plain cookie created by Carr, was an innovation. Previously all other commercially sold biscuits had been very hard. His was soft and crumbling, yet crisp. It was made without "docker-holes", such as you see in the Garibaldi, designed to stop the biscuit inflating in the oven.
1875 – Marie (see separate entry on Galletas Marías)
1899 – Chocolate Table (the first chocolate coated cookie made commercially)
1902 – Pat-a-Cake shortbread introduced. Sold 3,000 tins in its first week on the market
1909 – Golden Puffs
1910 – Bourbon (was called "Creola" at first)
1923 – Glaxo
1930s – Cheeselets and Twiglets for the cocktail era (the Twiglets were invented at the Toronto plant)
Literature & Lore
In the fall of 2008, Peek Freans Canada sponsored an eight-part web soap opera series called "As the Cookie Crumbles."
Sources
Great Fire at Dockhead. Hobart, Tasmania, Australia: The Mercury. Monday Morning. 30 June 1873. Page 2.
Pavia, Will. A peek at Peek Freans. London, England: Southwark News. 13 May 2004.
Records of Peek Frean. university of Reading, Library Special Collections Service. Document URL MS 1216. August 2007.
References

↑

1
Danone sells its biscuits to United. 24 July 2004. Accessed August 2019 at

https://web.archive.org/web/20071227175451/http://findarticles.com/p/articles/mi_qn4158/is_20040724/ai_n12801313

↑

2
Peek Frean Biscuits could be back on UK shelves next year. Southwark News. 7 December 2017. Accessed August 2019 at

https://www.southwarknews.co.uk/news/peek-frean-biscuits-back-uk-shelves-next-year/