Puff Ball Mushroom
© Michelle Mattern
Puff Ball Mushroom is somewhat of a generic term, referring to three different types of fungi: Calbovista, Calvatia, and Lycoperdon. They are usually white and round, with no stem. They grow on the ground or on dead wood.
They grow in many different sizes ranging from size from 2 to 30 cm wide (1 inch to a foot.) The Giant Puffballs (Calvatia types) are the ones that can grow up to 30 cm (1 foot) wide; they can also weigh up to 11 kg (25 pounds.) The Lycoperdon variety grows on wood.
Puffballs grow late in the late summer and autumn. Their thin skin is usually smooth, but some have skin that looks a bit like a pineapple, others have skin with little teeny warts or spikes on it. The spores grow inside the puffballs. As a puffball ages, it puffs up and will turn yellow and then either purplish or brownish. When it is ready to distribute its spores, the thin skin breaks open and the spores are ejected in puffs of dust.
To be edible, puffballs need to be harvested while they are still white and firm, before they start to puff. When cut open, they should be completely uniform and firm inside, like a marshmallow. The interior must be completely white to be safe to eat; there should be no pigmentation or colouring.
Cooking Tips
Dried puffballs can be powdered and used as a spice. Cook for 7 to 15 minutes.
Nutrition
Most people can eat them, though a few people do react. Some people also react to the skin, so peeling is generally best. If a puffball has started to turn yellow or purplish inside, it is not good for eating — it is becoming toxic.
Storage Hints
Sauté puffball slices or pieces in oil or butter before freezing.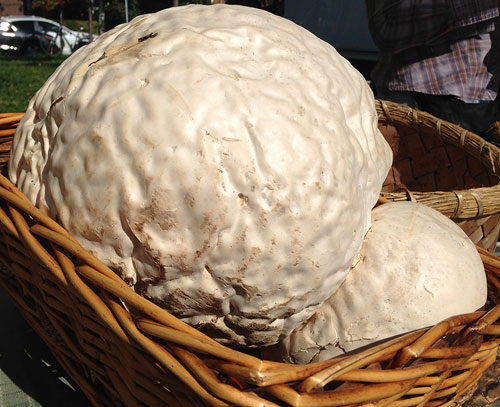 Puff Ball Mushroom
© Michelle Mattern
Puff Ball Mushroom
© Michelle Mattern