Pumpernickel is a bread that is traditional in the Westphalia region of Germany.
Pumpernickel is very dark brown, almost black at times, with a heavy, coarse, dense texture and almost no crust. The taste is slightly sweet and slightly sour. There are no caraway seeds, as there are in the America version.
It is made from flour of coarsely ground unbolted rye, along with a small amount of wheat flour. The dough is traditionally leavened with a sourdough starter. The bread is usually baked in long narrow pans with a lid, reminiscent of Pullman pans. The bread gets a long, slow baking, anywhere from 16 to 24 hours, at a temperature of 149 C (300 F) in an oven with steam in it. During this long baking time, a Maillard reaction occurs between the sugars and the acids in the starter, which naturally darkens the bread.
It is served sliced very thinly.
It is often sold as pre-sliced square loaves wrapped in cellophane. A 500g (17.5 oz) package contains only about 10 slices (which shows how heavy the bread really is.) Each slice is about 11 cm wide by 8.5 cm tall (4.3 inches x 3.3 inches), and about 5 mm (⅕th inch) thick.
You can also buy it sold in sealed tubes of round, thinly cut pieces, ready to receive toppings and be made into hors d'oeuvres.
There are certain German food laws that govern Pumpernickel making.
"Pumpernickel is made of at least 90 percent rye flour and / or whole grain rye with baking times of at least 16 hours. (Pumpernickel wird aus mindestens 90 Prozent Roggenbackschrot und/oder Roggenvollkornschrot mit Backzeiten von mindestens 16 Stunden hergestellt. )" [1]
"Added browner or sweeter is not allowed." (Der Zusatz bräunender oder süßender Stoffe ist nicht erlaubt. )" [2]
American-style Pumpernickel Bread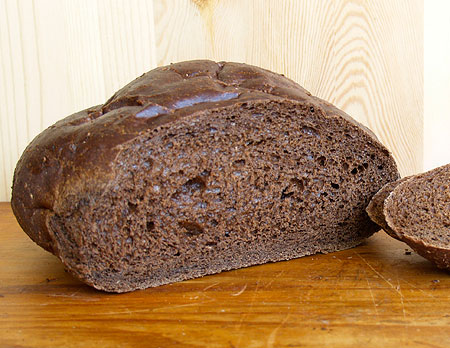 American-style Pumpernickel Bread
© Denzil Green
American-style Pumpernickel Bread is really a wheat and rye bread artificially coloured dark, rather than pumpernickel. It is often made in round, hand-formed loaves from refined rye flour, and wheat flour.
The crumb is not dense, and the taste is very different. Its production method forgoes the long baking process, and instead uses an ingredient such as coffee, molasses or cocoa powder even to colour it. Regular yeast is used to leaven it instead of a sourdough starter, to save time, and citric or lactic acid are used to imitate some of the taste that a sourdough starter would have given it. Many versions often add caraway seeds.
Home bakers making American-style Pumpernickel Bread sometimes use Kitchen Bouquet, beet juice, instant coffee, blackstrap molasses or caramel coloring to colour it.
This style of bread is often found in Jewish delis.
Pumpernickel bagels are made from the same type of dough.
People who have grown up with the imitation style of pumpernickel, unsurprisingly, often prefer it and can be (unpleasantly) shocked when they taste the real thing.
American-style pumpernickel is harder to find in Canada; grocery-stores there (from coast to coast) tend to stock the real thing in packages, perhaps because of different tastes, perhaps because it has a longer storage life.
Cooking Tips
Slices of genuine Pumpernickel can be fragile to make a "two pieces of bread" sandwich from, and are perhaps best used with open-face sandwiches, or cut into fours for use with hors d'oeuvres, etc.
Genuine Pumpernickel goes well with tangy cream cheeses, aged cheeses, smoked meats, smoked salmon, capers, pickles, etc.
Amount

Calories

100

Fat

1 g

Carbohydrate

19 g

Fibre

4 g

Sugars

6 g

Protein

3 g
Storage Hints
Once a cellophane package of genuine pumpernickel is opened, you may want to store it in the refrigerator. It is very moist and has no artificial preservatives so it can be vulnerable to mould.
Language Notes
Discount any explanations of the word Pumpernickel that have anything to do with a French soldier's horse, or with the devil farting (even dictionaries such as Merriam Webster and American Heritage have fallen for that one.)
Sources
[1] Heuts, Gabriele, editor. Leitsätze des Deutschen Lebensmittelbuchs für Brot und Kleingebäck. Bundesministeriums für Ernährung, Landwirtschaft und Verbraucherschutz. 9 July 2008. Page 5, # 12.
[2] Schünemann, Claus and Günter Treu. Technologie der Backwarenherstellung. Gildebuchverlag GmbH, 2005. Page 202.