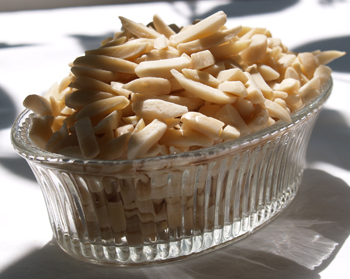 Slivered Almonds
© Denzil Green
Slivered almonds are almonds that have been sliced very thinly into little sticks. They differ from sliced almonds, which are almonds sliced across their diameter giving you much bigger pieces. If you can't keep the shape distinction clear in your head, think of getting a sliver in your finger and what that is shaped like.
To make sliced or slivered almonds, commercial producers have special machines that will process about 4,000 pounds of almonds an hour. The machine heats the almonds to about 71 C (160 F ) to make them pliable, so that they won't shatter when being cut. Slivered and sliced almonds cost more relative to whole almonds, as you have to pay because of the extra work that was done for you.
Sliced and slivered almonds are just about impossible to make at home. The food processor won't slice them, it will chop them and then grind them. It's really not something you can do by hand, either; they will split like crazy on you and you may lose a finger in the process. If they weren't so readily available in packets at the stores, no recipes would be calling for them. The recipe writers expect you to buy them that way. The kicker, though, is when a recipe calls for slivered or sliced almonds (which are more expensive than whole almonds), and then has you pulverize them in a food processor. Use whole almonds instead as they are cheaper, or just buy ground almonds and be done with it.
If you have a recipe calling for slivered or sliced almonds, and you only have whole, either make something else, or chop the almonds and use those instead, though it won't look as fancy especially if the almond slivers or slices are called for to go on top of something for decoration.
Equivalents
1 pound slivered almonds = 4 cups
1 cup slivered almonds = 115 g = 4 oz