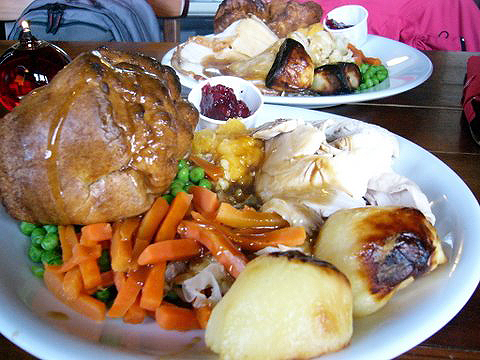 Sunday Roast — Chicken
© Leclaire & Schenk
Sunday Roast is traditional in the UK and in Ireland.
It is always served in the early afternoon.
Many North Americans make the mistake of thinking they will hit a pub and get a roast dinner at 5 or 6 in the afternoon, which is when North Americans will have theirs, only to find that meal service has been stopped hours ago.
The name "Sunday Roast" arose in the 20th century. Meat would be left in the oven to roast while people were at church, so that it was ready to eat at lunch time when they got home.
The meat is usually beef, but can be lamb, chicken, pork, goose, etc.
Steamed cabbage, cauliflower cheese, leeks, swede or turnip, roast parsnip, roast potatoes, peas and carrots are traditional vegetable accompaniments to a Sunday Roast meal, along with gravy and Yorkshire Puddings.
Horseradish sauce will usually be present if the meat is beef; mint sauce if the meat is lamb. Red currant jelly, bread sauce and / or English mustard may also appear.
Many people like to make Yorkshires even if they aren't having beef.
Cooking Tips
In making a roast dinner, timing is critical, especially if you only have one oven — and there is far more prep work than may be apparent in the meal.
Nutrition
Sunday Roast — Beef
Denzil Green
A 2010 survey of commercially-prepared Roast Dinners in the UK, assembled from supermarket ready-meal chiller cabinets or eaten in pubs, found that a typical meal can have in it 150% of the maximum daily salt recommended for an adult, even before you reach for the salt shaker. The survey was done by CASH (Consensus Action on Salt and Health.) [1]
Sources
[1] Jamieson, Alastair. Salty Sunday roast dinners are putting Britons at risk of premature death: High levels of salt in Sunday roasts are putting Britons at risk of deadly heart disease and strokes, according to a study by health campaigners. London: Daily Telegraph. 5 December 2010.
Hollweg, Lucas. Sunday roast with a delicious twist. London: The Times. 14 March 2010.
Hope, Christopher. Traditional Sunday roast 'will become a delicacy due to rising food prices'. London: The Telegraph. 26 January 2009.