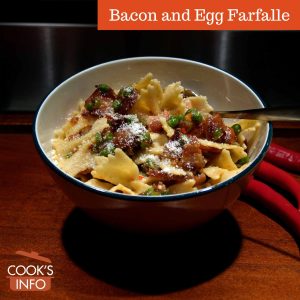 Bacon and Egg Farfalle Recipe
This is a hearty take on Pasta Carbonara, with peas added to boost the protein and add interest.
Instructions
Peel and finely chop the onions; set aside.

Peel and chop the garlic; set aside.

Wash the chile; remove the seeds and white pith; chop finely and add to the set-aside garlic.

Chop the bacon roughly; add to the set aside garlic and chile.

Zap the peas with a bit of water in the microwave until just cooked -- about 5 minutes. Drain, set aside.

Now, with all your prep work done, you can enjoy just putting it together.

Put a generous pot of salted water on to boil.

Heat the oil in a large frying pan, then add the onion and cook over medium-low heat until starting to get soft -- about 10 minutes. Add the bacon and chile to the onions increasing the heat to medium.

When bacon is about half way done (approximately 8 - 10 minutes) add pasta to boiling water. Cook until tender to the bite -- about 10 to 12 minutes for farfalle -- cooking times for the pasta may vary if you substituted another type of pasta.

Now that the pasta and bacon are on cooking, get the egg yolks into a very large bowl, along with the Parmesan. Stir them together.

When the bacon and onion pan has almost had its time, stir in the peas, cook for another minute or two. Drain any excess fat from the bacon off, and transfer the contents of the frying pan into the large bowl where the egg and cheese are, and stir to mix everything.

Take out a cup or so of water from the pasta pan, set it aside.

Now drain the pasta in a colander in the sink, and tip the pasta into the large bowl with the bacon and egg mixture. Stir it all together, making it saucier by adding as much of the reserved pasta water as you feel like.

Serve hot.
Notes
Farfalle are those pasta that are shaped like bow ties (or butterflies, if you prefer). Substitute any shaped pasta.
Instead of peas, you could try corn kernels, chopped green beans or asparagus, or omit.
Instead of a fresh red chile, you can use red pepper flakes.
½ cup grated Parmesan cheese is 2 oz / 50g.
1 cup of frozen peas is 100g / 4 oz of frozen peas.
If you used a fattier bacon, you'll want to get rid of the excess grease before mixing it into the cheese and egg mixture: either drain on paper towel or brown paper, or, transfer to the cheese and egg mixture with a slotted spoon.