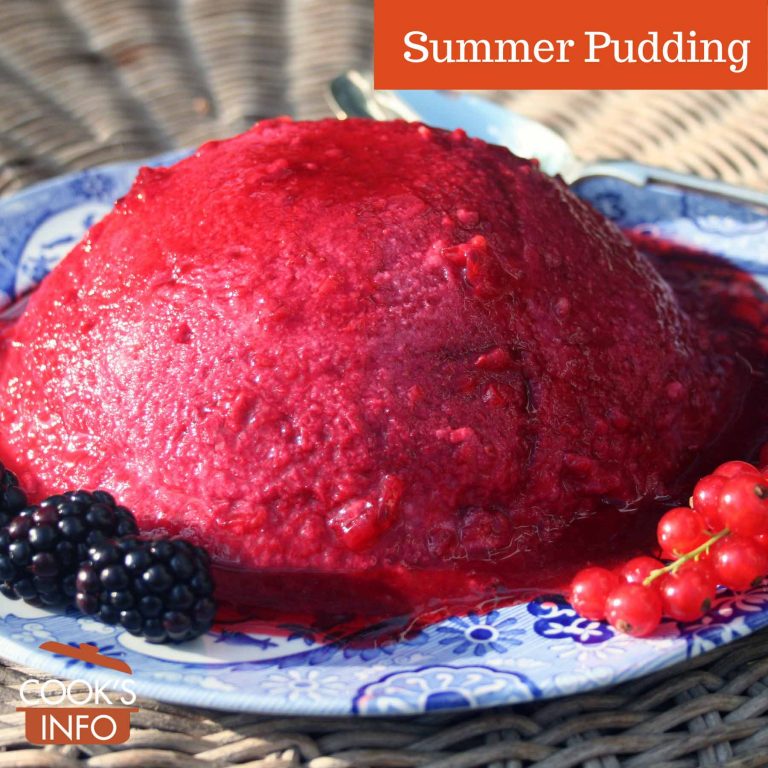 Summer Pudding
The classic English summer dessert. The simplicity of the ingredients is deceptive; the tastes of this are very sophisticated. You can make this a day ahead. You can also reduce the calories ahead with a few tips that we give in the nutrition section.
Instructions
Lightly butter the bowl or pudding basin you are using. Cut slices of bread about ½ inch (1 cm) thick, and cut off crusts. Line bowl with bread slices, leaving no gaps. Press edges together well.

Wash and clean all fruit; discard all stems and any mouldy fruit. Put fruit and sugar in a pot; put heat on medium; bring to a simmer and simmer until juice starts to come out of fruit and sugar has dissolved in it -- should be no more than 4 to 5 minutes.

Take about ½ cup of the juice, cover it and set in fridge for later use.

Empty the pot with its fruit and juice into the lined pudding bowl. Cover the top of the bowl with bread. Place a plate on top, and a weight on top of that to press the plate down. Put in fridge overnight or at least for several hours.

To serve, run a knife carefully along insides of pudding bowl. Invert out onto a plate.

Drizzle with the fruit juice that you had held back yesterday, particularly to cover any small white spots.

Serve with a thick cream or custard.
Notes
Use a 1 ½ pint (850 ml / 3 ½ cup) bowl.
Don't overcook the fruit; you want it start releasing its juice but still retain its shape.
The quantity of sugar needed will vary based on the tartness or sweetness of the berries you use.