Sometimes, you just want a slice of home-baked, plain old-fashioned sandwich bread. It's dead easy, and guilt-free, with this recipe.
Using a bread machine or stand mixer, you can make bread that is low in fat, salt and sugar and just 56 calories per slice. Commercial breads that are that low in calories achieve it by selling you a slice of air, practically: this is proper, dense, home made sandwich bread that you can make proper sandwiches and toast with.
You need a bread machine or stand mixer, and ideally a Pullman bread loaf pan that is 9″L × 4″W × 4″D (22 cm x 10 cm x 10 cm.) The Pullman pan ensures evenness of slices, as well as giving the bread a satisfyingly crispy crust, but of course any bread pan will do.
To turn this recipe into a mix you can store, see: Bread Machine Mix DIY
Skinny Sandwich Bread
Sometimes, you just want a slice of home-baked, plain old-fashioned sandwich bread. It's dead easy, and guilt-free, with this recipe. Mix the dough in a bread machine or stand mixer, then bake in the oven.
Cooking Temperature
175 C (350 F)
Instructions
Put ingredients in bread machine pan or stand mixer bowl in order listed (yes: 1 cup plus 2 tbsp water -- 9 oz / 260 ml.) Put bread machine on dough cycle.

Meanwhile, lightly spray a bread pan with cooking spray, not forgetting the underside of the top lid if using a Pullman pan. Set aside.

When the bread dough is finished mixing completely, let it rise in the bread machine and go through first punch down, and then pull the dough out. If using stand mixer, let rise in mixer bowl for 30 to 40 minutes, then pull the dough out.

Place in the prepared bread pan. (If using a Pullman pan, place the 3/4 on.) Cover with a tea towel to help stop dough from drying out. Check after 30 to 60 minutes and every 10 minutes or so after that. When the dough has risen about 7/8th of the way to the lid if using a Pullman pan, heat the oven to 175 C (350 F).

Close the lid carefully if using a Pullman pan, put the bread pan into the oven and set a timer for 40 minutes.

At the end of this, using hot mitts, remove from oven. Turn immediately out of bread pan onto bread rack to cool.
Notes
Use bread flour or a strong all-purpose such as King Arthur, unless you're in Canada, in which case instead of bread flour just use any all-purpose flour.
When mixing in your bread machine, let it mix, and go through first rise just until after the first punch down in the machine. That will likely be 30 to 40 minutes after the machine starts mixing. Once you learn, write it down, and in the future just set a timer to come and get the dough at that point. Don't let it do the second rise in the machine -- you want that to happen in the bread pan.
The gluten flour is optional. It does truly help to ensure a good full rise and crumb structure even though we have cut back a fair bit on the more carb-heavy regular flour; you do really notice a difference. You can just use two tablespoons more of regular (bread) flour instead.
If you use iodized salt, you may need more yeast because iodine kills yeast. It's cheaper to use un-iodized salt so you don't have to use more yeast.
Ideally the dough will be just a little bit on the stickier side when you turn it out of the machine to give you a better rise in the bread pan and avoid collapsing during baking. If your flour is older and dry to start with, you may need to add a tablespoon or more additional water -- you'll be able to see during the mixing process.
Family size larger version of Skinny Sandwich Bread
Here are the proportions for a longer Pullman pan 13 x 4 x 4 inches (33 x 10 x 10 cm) making a 2 pound / 900g loaf. All the same directions above apply.
1 1/2 cup water (lukewarm)
2 tablespoons Powdered Milk
1 tablespoon low-calorie margarine
1 teaspoon Sugar
1/4 teaspoon Salt
3 3/4 cups Flour
4 tablespoons gluten flour (optional)
1 teaspoon Yeast
Hold back on a bit of the water, and watch the machine in the first few minutes of mixing. If your flour has been stored a while, it may have gone somewhat dry and need it all, or even want a few more tablespoons of water. You don't want a super, tight, dry dough, or you won't get a good rise. You can use up to 50% whole wheat with no impact on recipe.
Nutrition Notes
Nutrition information is for bread sliced in 20 slices that are 1 cm (.4 inches) thick. It's really not feasible to try to slice it any thinner. Per slice, 56 calories. (For the family-sized loaf, cut slices the same thickness and the same nutritional info per slice will apply.)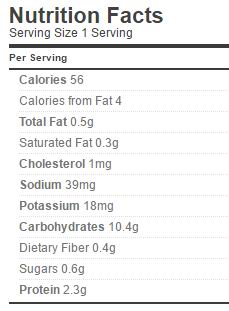 * Nutrition info provided by http://caloriecount.about.com
Weight Watchers® PointsPlus™: 3 points for 2 slices
* Weight Watchers Points™ calculated by CooksInfo.com. Not endorsed by Weight Watchers® International, Inc, which is the owner of the Points® registered trademarks.