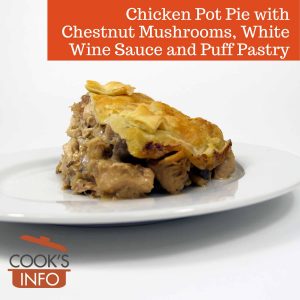 Chicken Pot Pie with Chestnut Mushrooms, White Wine Sauce and Puff Pastry Crust
This pie has a gorgeous filling, a gorgeous crust, and so few ingredients! Yet the flavours of the chicken, chestnut mushrooms and white wine come through in a memorable dish. Sometimes, the simplest dishes can become fixed as a defining moment in time in your mind.
Cooking Temperature
180 C / 350 F / Gas Mark 4
Instructions
Thaw the puff pastry in advance of starting.

Peel and chop or crush the garlic. Peel and chop the onion; set both aside.

Slice or quarter the mushrooms, set aside.

Chop the chicken in smallish pieces, set aside.

Heat a few good glugs of oil in a large frying pan over medium-high heat.

Add the chicken, and stir fry it for about 5 minutes or until it's all browned. Remove from the frying pan, set aside.

Add a bit more oil to the frying pan, and toss in the onion, garlic and mushrooms. Toss them around for about 10 minutes, then crank the heat a bit and pour in the white wine and the stock.

Start heaving oven to 180 C / 350 F / Gas Mark 4.

Add the chicken back into the frying pan, and let it simmer energetically for about 10 minutes. Lower the heat, add the cream and the parsley, along with a few pinches or grinds of pepper, simmer for a final 5 minutes. It's okay if the sauce is somewhat liquidy, as it will thicken more in baking later. (Don't be tempted to thicken it; we did one time, and the pie ended up dry with no sauce.)

Pour into the ovenproof dish. Roll out the puff pastry to fit the top of your dish, and cover the dish with the pastry dough. Brush with milk or butter quickly melted in the microwave, then pop into the oven for about 30 to 40 minutes or until the crust is cooked and a lovely golden brown, and the dish is bubbling. Serve hot.
Notes
For the frying pan, use a large, deep one, or even a wok!
For the baking part, use an ovenproof dish that will hold about 1 quart / 1 litre / 4 to 5 cups.
For the stock, use chicken or vegetable stock. Cheat and use a cube if you wish.
Instead of chicken breasts, you can use boneless chicken thighs -- or leftover boned chicken if you have enough.
For the puff pastry, get a ready-made pack that weighs about 12 oz / 350 g (or use that much of a larger pack.)
Quartering the mushrooms gives a chunkier feel to the pie. You can experiment: try sliced mushrooms, button mushrooms, canned mushrooms, even plain white mushrooms.