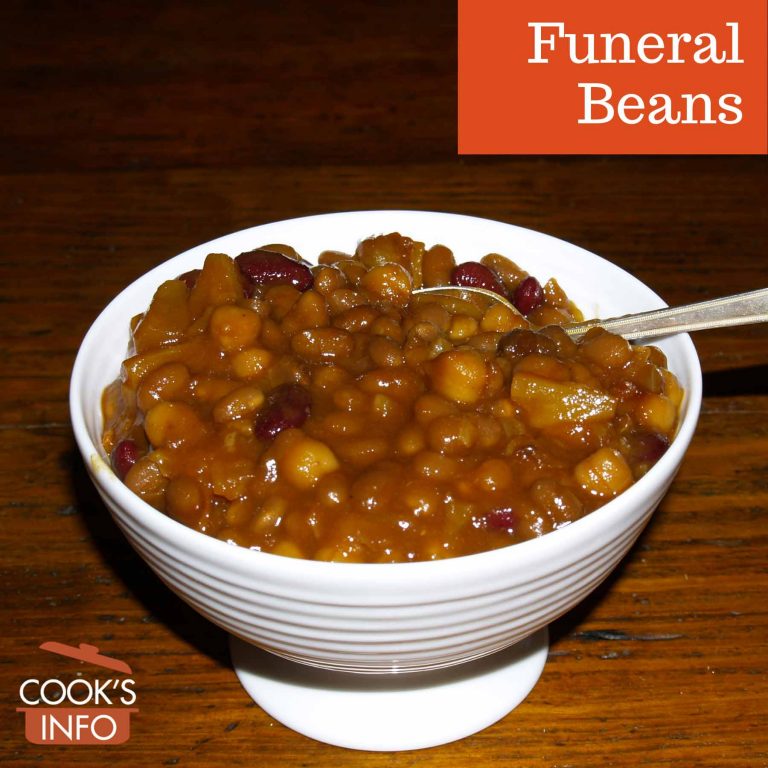 Funeral Beans Recipe
A classic North American 1950s dish to make and take to feed a crowd at gatherings. It was dubbed "Funeral Beans" because it was a stand-by crowd-pleaser for gatherings after funerals. Tastes amazing with the pineapple in it. And even though it's made by assembling store-bought stuff, owing to the variety of beans in it no one will think you just "opened a tin." It definitely looks homemade.
Cooking Temperature
175 C / 350 F / Gas Mark 4
Instructions
Fry bacon until crisp in a frying pan. Remove with a slotted spoon. Add the onion, fry until tender.

Start heating oven to 175 C / 350 F / Gas Mark 4.

Mix everything together either in an ovenproof casserole dish or in the crock of a slow cooker.

Bake in oven for 1 ½ hours, or on low in a slow cooker for 2 to 4 hours.

Stir once or twice while baking.
Notes
½ cup of chopped bacon is 3 to 4 slices before chopping. Tip: kitchen scissors make quick work of this.
1 cup onion is about 1 good-sized onion before chopping.
Drain and rinse the kidney beans and chick peas; use the pineapple juice and all.
Use whatever flavour of canned baked beans you prefer. 4 cups is 1 quart / 32 oz / 1 litre. That'll be 2 or 3 tins, depending on the tin sizes available where you are (2 x 14oz tins will do it.) Don't drain these, tip them in with their sauce.
For the mustard, you can use either dry, or prepared.