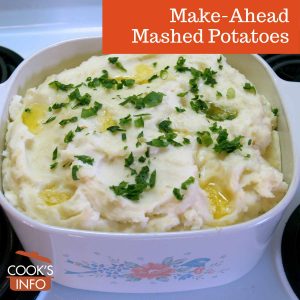 Make-Ahead Mashed Potatoes
Hands down the best-ever make-ahead recipe for mashed potatoes. Do not be afraid to serve these at Thanksgiving or Christmas, they are even better than regular mashed potatoes, and it's one less vegetable side to have to worry about at the last minute. Make up to 24 hours ahead and refrigerate. Or make even further in advance, and freeze.
Cooking Temperature
190 C / 375 F / Gas Mark 5
Instructions
Put a pot of water on to get started boiling.

Peel then boil potatoes until tender, then drain.
You can do the following by hand or with an electric mixer:
Place potatoes in large bowl, or back in the pot you cooked them in. Mash the potatoes, mix in the cream cheese, then the sour cream, the milk, and the salt and pepper, and the chopped herb.

Spread in a large greased casserole dish. Cover, and store in fridge for up to 24 hours. Or freeze if making further ahead.

Take out of fridge about ½ hour before you are going to cook them. (Or thaw first if frozen.) Start oven heating to 190 C / 375 F / Gas Mark 5. Melt the butter, mix in dried breadcrumbs. Sprinkle buttered breadcrumbs over top. Bake uncovered until lightly browned in places - about 35 - 45 minutes.
Notes
You can use up to 5 pounds (2 kg) of potatoes. If you do, increase the milk a bit more.
Use a chopped herb such as chive or parsley. Dried is fine, or omit altogether.
Don't even think about the fat content in this dish! But if you do, you can reduce it marginally by using lower-fat cream cheese and sour cream, and skim milk.