Tunnel of Fudge Cake
Tunnel of Fudge Cake is a cake with a fudge and nut centre baked in a Bundt® pan.
It originally required Pillsbury "Double Dutch Fudge Frosting Mix", which was later discontinued by Pillsbury.
In response to widespread complaints, Pillsbury released a revised version that introduced cocoa powder in place of the frosting mix.
On 20 December 2004, The New York Times published an updated version of the Pillsbury recipe, developed by Shirley O. Corriher, a food scientist and cookbook author. Her version deviates a fair bit from both Pillsbury versions. She calls for dark brown sugar instead of white, swaps in some oil for some of the butter, swaps out 2 of the eggs and replaces them with just 2 egg yolks, and calls for the nuts to be toasted first before use. Her version is in her cookbook, "BakeWise: The Hows and Whys of Successful Baking with Over 200 Magnificent Recipes."
Cooking Tips
New recipe for Tunnel of Fudge Cake released by Pillsbury
This revised recipe makes up for the now-extinct ingredient of "Double Dutch Fudge Frosting Mix." Note that Pillsbury introduced a glaze, whereas the original did not have one. Pillsbury notes that the cake will not work without the called-for amount of nuts.
For the cake:
1 3/4 cups white sugar
1 3/4 cups margarine or softened butter
6 eggs
2 cups icing sugar
2 1/4 cups Pillsbury BEST® All Purpose or Unbleached Flour
3/4 cup unsweetened cocoa powder
2 cups chopped walnuts
For the glaze:
3/4 cup icing sugar
1/4 cup unsweetened cocoa powder
4 to 6 teaspoons milk
Start heating oven to 350 F / 175 C.
Grease and flour a 12-cup (3 litres) fluted tube cake pan or a 10-inch (25 cm) tube pan. Set aside.
In a large bowl, beat the butter and sugar until fluffy. Add eggs one at a time and beat after each one. Add the 2 cups of icing sugar a little at a time, beating after each addition. Stir in flour (if you have been using an electric beater, switch to hand for this) and all remaining ingredients in the cake section. Pour or spoon batter into the prepared cake pan and smooth it out. Pop into oven and bake until edges start to pull away from the pan and the top is set. Don't go by standard tests such as a dry toothpick test; they won't work with this cake. The cake should be done in 45 to 50 minutes. Remove cake from oven, leave in pan, and set on wire rack to cool 1 1/2 hours, then invert onto a plate and let cool a further 2 hours.
Now, mix all the glaze ingredients. You want the glaze to be runny enough to drizzle, so add a bit more milk if you have to. Drizzle over top, and let some run down the sides of the cake.
History Notes
The cake was created by Ella Rita Helfrich (aka Mrs. Carl J. Helfrich) of Houston, Texas (born approximately 1917.) The recipe won her second prize in the 17th annual Pillsbury Bake-Off, held on Tuesday, 25 January 1966 in San Francisco. She had been participating in the contest since 1959.
Tunnel of Fudge Cake Magazine Spread
(Click for larger)
SAN FRANCISCO (AP) — A Las Vegas card dealer's wife won $25,000 Tuesday for her "golden gate snack bread" in the 17th annual Pillsbury Co. Bake-Off. The first prize winner, Mrs. John Petrelli, 31, entered a snack yeast bread made with instant flour, processed cheese spread, dry onion soup mix and butter. Mrs. Carl Helfrich, wife of a Houston railroad machinist, won the $5,000 second prize for her "tunnel of fudge cake," which took only 15 minutes to make by folding nuts and double dutch frosting mix into a batter of flour, sugar, butter and eggs." [1]
Though her recipe only won second prize, it was enough to clinch her place in American cooking fame. The first prize recipe from that year has been forgotten. Ella's, though, was an immediate sensation.
Pillsbury ran newspaper ads across America showing a photo of a slice of the cake with the large, bold caption "Makes its own tunnel of fudge as it bakes". The ad (accompanied by an 8 cent clip-out coupon) said:
"Sensational Tunnel of Fudge Cake $5,000 Busy Lady Bake-Off Winner (another shortcutted (sic) idea from Pillsbury — the Idea Flour). Rich, yummy chocolate cake that makes its own thick, fudgey center as it bakes. What an idea! And Tunnel of Fudge Cake is easy. Shortcutted, streamlined, up-to-dated (sic) by Pillsbury's Best. Makes baking from scratch easy as baking from a mix! Just one bowl. Six ingredients. Ten minutes' preparation time. Because Pillsbury Double Dutch Fudge Frosting Mix goes right in the batter—makes the flavor, the tunnel as the cake bakes! You'll bake Tunnel of Fudge Cake again and again. The recipe's at your grocer's. Pick it up at the same time you get your Pillsbury's Best —Plain or Self-Rising."
The promotion caused Pillsbury's to be inundated with more than 200,000 requests from people asking where to buy the Bundt pan her recipe called for the cake to be baked in.
In addition to Pillsbury ingredients, the "Tunnel of Fudge Cake" recipe also called for Land O'Lakes brand butter. The Land O'Lakes company ran ads in newspapers across America, giving the recipe, promoting the role of its butter in the cake, and offering a special deal on Bundt pans: "With the special coupon on the Land O'Lakes Butter package and only $3.00, you can get the authentic Teflon-coated Bundt Pan (with nylon spatula) in which to bake your "Tunnel-of-Fudge" Cake. ($5.00 value)" [Ed.: you actually needed two Land O'Lakes guarantee panels.]
Ella contained to enter the Bake-Offs after 1966, but never won again. She felt it was owing to her resisting the pressure to go "light and lively" in her recipes. She told reporters there were four major food groups for her: butter, chocolate, pecans and sugar. "You can't go low-cal when you're using pecans and brown sugar," she said in 1999. [2] She liked cooking with pecans, as she had a pecan tree in her backyard. She was still alive in 1999, aged 82.
Literature & Lore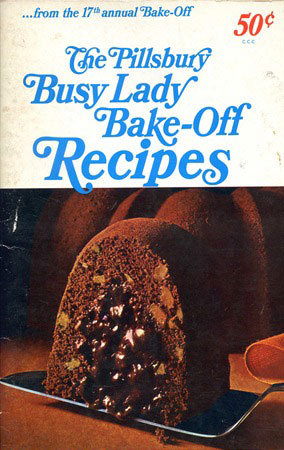 Though second prize, Ella's
recipe was featured on
the recipe book that year.
Original recipe:
Tunnel of Fudge Cake
1 1/2 cups soft Land O' Lakes Butter
6 eggs
1 1/2 cups sugar
2 cups Pillsbury's Best Flour (Regular, Instant Blending or Self Rising*)
1 package Pillsbury Double Dutch Fudge Buttercream Frosting Mix
2 cups chopped Diamond Walnuts
Oven 350° [ed. 350 F / 175 C]
10-inch tube cake
Cream butter in large mixer bowl at high speed of mixer. Add eggs, one at a time, beating well after each. Gradually add sugar, continue creaming at high speed until light and fluffy. By hand, stir in flour, frosting mix, and walnuts until well blended. Pour batter into greased Bundt pan or 10-inch Angel Food tube pan. Bake at 350° for 60 to 65 minutes. Cool 2 hours, remove from pan. Cool completely before serving.
Note: Walnuts, Double Dutch Fudge Frosting Mix and butter are key to the success of this unusual recipe. Since cake has a soft fudgy interior, test for doneness after 60 minutes by observing dry, shiny brownie-type crust.
*For use with Pillsbury's Best Self-Rising Flour, decrease butter to 1 cup. Cream butter in large mixer bowl at high speed of mixer. Add eggs one at a time beating well after each. At low speed, gradually add flour, then sugar, mixing until well blended. By hand, stir in frosting mix and walnuts. Blend well. Pour batter into greased Bundt pan or 10-inch Angel Food tube pan. Bake at 350° for 65 to 70 minutes. Cool 2 hours. Remove from pan. Cool completely before serving
Sources
[1] Austin Daily Herald. Austin, Minnesota. Wednesday, 26 January 1966.
[2] Mills, Karren. Pillsbury Bake-Off reflects 50 years of American trends. Elyria, Ohio: The Chronicle-Telegram. Wednesday, 2 June 1999. Page C7.